Happy Ganesh Chaturthi 2017!
The popular religious festival — Vinayaka (Ganesh) Chaturthi is celebrated to honour Lord Ganesh, who is considered as the remover of obstacles. The 10-day-long festival ends on Ananta Chaturdasi, and this year, the Hindu festival falls on Friday, August 25.
On the first day of the festival, clay idols of Lord Ganesh, the son of Lord Shiva and Goddess Parvati, will be placed at homes or in public pandals where special prayers and pujas are conducted. On the tenth day, devotees take the idols through streets in colourful processions symbolising Vinayaka's journey towards his abode by taking away all the misfortunes of mankind.
Also check: Here's top 5 latest Bollywood songs to celebrate Lord Ganesh's birthday
It will be followed by immersion of the idols in water-bodies as the symbol of good fortune, wisdom, prosperity and wealth.
As per the Hindu calendar, Ganesh Chaturthi is majorly celebrated in Gujarat, Maharashtra and South India in the month of Bhadra. As part of the auspicious occasion, people also clean their houses and prepare special edibles and sweets like modaka.
Check some easy and delicious Modak recipes
International Business Times India has compiled a list of messages, wishes, greeting, gif wishes. Check them below:
May the remover of obstacles make your life clean,
May you get all the blessings of the Lord Ganesh,
On the occasion of Vinayaka Chaturthi.
Happy Ganesh Chaturthi wishes.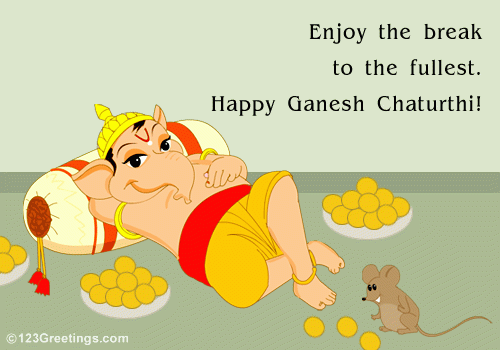 Did you know the meaning of Lord GANESHA
G- Get
A- Always
N- New
E- Energy
S- Spirit &
H- Happiness
A- At all times!
Happy Ganesh Chaturthi!
Lord Ganesha is a symbol of good fortune, wisdom and prosperity.
I pray for you to get all the good blessings of the Lord.
May you be showered with the kindness of Ganpati Bappa.
Ganpati Bappa Morya...Ganpati Bappa Morya
May He enrich your life by always giving you great beginnings and removing obstacles from your life! Happy Ganesh Chaturthi 2017
Bakthi Ganapati
Sakthi Ganapati
Siddhi Ganapati
Lakshmi Ganapati
Maha Ganapati
May this Ganesh Chaturthi brings you Bakthi, Shakthi, Siddhi, Laskhmi and Maha Samriddhi!
Vakratund mahakay
Suryakoti samprabha
Nirvighnam Kurume devam
Sarvakaryesu sarvada.
Happy Ganesh Chaturthi.
May Ganpati Bappa shower abundant good luck in your life
May He always bestow His blessings in your life now and always.
Happy Ganesh Chaturthi 2017
The day to celebrate and to spend time with family is here. Wishing you the warm greetings of Vinayaka festival. Happy Ganesh Chaturthi to you and your family.
The divine blessings of Lord Ganesh will bring you eternal bliss. He will hold your hands to the guide in the right path. Happy Vinayaka Chaturthi 2017.
He is our mentor and protector, who enriches our life by removing all obstacles from life! He is Lord Ganesha. I wish you to achieve all your dreams with the help of Vinayaka. Ganesh Chaturthi wishes to you.