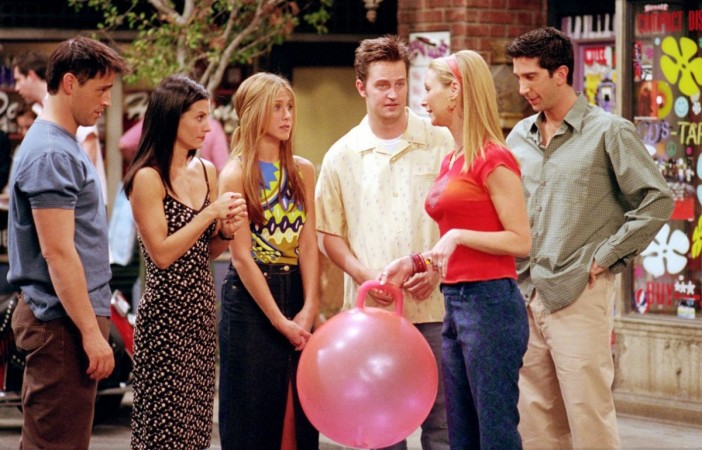 A decade after its finale, "Friends" remains one of the most popular and quoted shows of all time, especially when it comes to celebrating friendship. With equally touching and hilarious moments among six friends, the show's main appeal was that people could relate to it.
Be it the relationship between Ross (David Schwimmer) and Monica (Courtney Cox), the ultimate on-again, off-again couple Ross and Rachel (Jennifer Aniston), Phoebe's (Lisa Kudrow) quirky ticks or Joey (Matt LeBlanc) and Chandler's (Mathew Perry) friendship, "Friends" offers something for everyone.
In the ten seasons-long series, we have the various dynamics of friendship between the six main characters, and we have seen them grow from confused 20-year-olds to confused 30-year-olds. A lot of those moments made us think about ourselves and our best friends.
So, we thought it best to celebrate Friendship Day 2016 by taking a look at some of the best "Friends" moments that made us remember our own friends.
When Rachel just moved in with Monica and had decided to get independent, the rest of the gang helped her by forcing her to destroy all her credit cards. How many times have we had to stop that shopaholic friend of ours from getting into credit card debt?

Remember that time when Chandler was stuck in an ATM vestibule with Jill Goodacre and only Joey would understand what he is saying? Now that is true friendship. You can talk in a crowd and only your BFF will know exactly what you're talking about.
How many times have you and your best friend fallen for the same guy? Most of the time we try and pretend that we are more mature than to fight over a crush, but every now and then there comes along a guy like Jean-Claude Van Damme and maturity flies out the window.
As a non-vegetarian one of the greatest sacrifices you can make is give up eating meat for your best friend. And that is exactly what makes Joey, probably the biggest fictional foodie after Jughead ("Archie" reference), the best friend ever. When your friend best needs it you give them moral and emotional support by walking a mile in their shoes.
When Joey had to practice kissing before going on an audition, Ross lent his lips for support. So what if he was a little too late and Joey had already lost the part, it is the thought that counts. You need what needs to be done to get your friend the job that he wants.