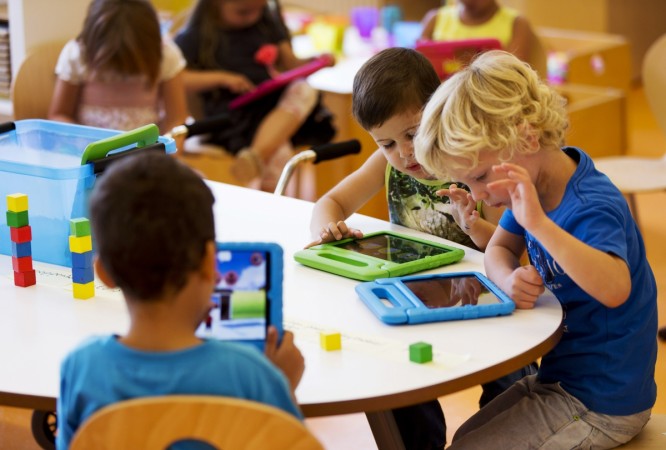 Kids these days are more familiar with tech gadgets than their parents at times. To keep up with their growing urge to learn more on the internet, parents must be a step ahead of their little ones.
On the occasion of Children's Day, parents can connect with their kids on their level by not only encouraging them to explore their technological intellect but also by steering them to the right path. While the internet can be a great tool for kids to learn, it can also be as harmful due to its open nature.
We are listing a few top mobile apps for your kids' iPad or Android tablet that can help boost their knowledge while keeping them away from the internet cons. Instead of keeping children entertained with the social media sites, here are a few interesting ideas to keep them occupied.
YouTube Kids App
Everyone's familiar with YouTube. It is the world's largest source of free videos online. While there are certain limitations to what kind of videos can be uploaded to the site, there are also some that can influence children in a bad way. So it is safe to say that YouTube is for adults.
But Google is not letting down the future of the world. The official YouTube Kids app helps children discover videos, channels and playlists they love such as Thomas & Friends, DreamworksTV and Talking Tom, online hits like Mother Goose Club, Super Simple Songs and Wonder Quest. The app is free to download and can be useful in several other fields such as sports, animals and crafts.
nexGTv Kids App
Entertain your kids with the Tales of Panchtantra, Vikram and Betal, the adventure of Ducktales, or the Malgudi Days. NexGTv Kids app has it all in one place. The story-telling just took a new spin with this app.
NetflixApp
Netflix is a quite popular TV and movie-streaming app for users of all age groups. But there is a Kids feature in the app, which allows any family member on the account to enable kids' content for their children. Adults or parents can specify whether they want shows for "older kids" or just for "little" ones and protect the rest of the content with a security PIN.
Voot Kids App
Which kid doesn't love cartoon shows? Get all the popular shows for kids such as Motu Patlu, Chhota Bheem, Pokemon, Kung Fu Panda, Dora, SpongeBob and more with Voot app, so you do not have to wait for them to be streamed on the TV.
Users can toggle between Voot and Voot Kids app through a security pin. Kids can easily switch between episodes of other popular characters by shaking the phone, which can be a fun experience for them.
Nick App
The best of Nickelodeon videos, games and full episodes are at your fingertips with this official Nick app for your kids. Download now and bring entertainment to your kids in a most convenient way.
While these mobile apps will keep your kids entertained, you can make this Children's Day more special by adding a surprise gift. Snapdeal's "Celebrating Childhood" store brings a wide range of toys, games, and stationary and more, which can be an ideal gift for your little one.
Below are the top five picks that are popular on Snapdeal on this occasion:
Remote Car Cum Helicopter
Smart Dog
Voice Controlled Car
App Controlled spy toy with Camera
Wall Climbing Car