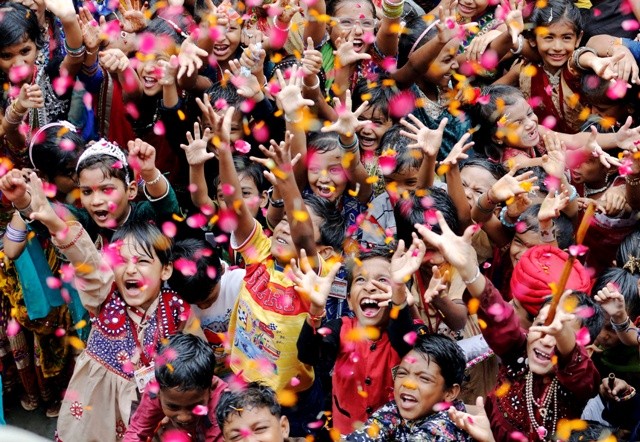 Happy Children's Day 2016!
Indians are set to celebrate Children's Day on Monday, November 14, coinciding with the birth anniversary of Jawaharlal Nehru. Fondly called Chacha Nehru or Chachaji, the first Indian Prime Minister, was always affectionate to children, whom he considered as the future of the country.
As part of the Children's Day celebrations, various functions will be organised in schools across the country to entertain kids. Children will be dressed up in the trademark attire of Chachaji with a red rose on the buttonhole. However, while few countries observe Children's Day on 1 June, Universal Children's Day is celebrated on November 20.
WATCH HOW INDIAN SPORTSPERSONS ARE WISHING CHILDREN'S DAY ON TWITTER
Check out best quotes, wishes, messages and greetings to be shared on Children's Day 2016:
Every child comes with the message that God is not yet discouraged of man. — Rabindranath Tagore, famous Indian writer
You are the future of our country,
You have to become the pride of India,
Happy Children's Day.
Children are the world's most valuable resource and its best hope for the future. — John F. Kennedy, Former President of the United States
Childhood means Unlimited fun
Showering of love and care from everyone
Joy of growing up
Enjoy these days to the fullest
Happy Children's Day!
A child can ask questions that a wise man cannot answer. — Author Unknown
When we are kids, we dream of going to schools.
Once we are in school, we wish to be in college.
After joining college, all you need is to get a job.
Its only once you start earning, you will miss your childhood days.
When you had zero responsibilities and tensions.
So enjoy your days the best ways possible.
Our children can achieve great things when we set high expectations for them. — Jeb Bush, American politician
My childhood was fun,
Tough and exciting,
I want you to enjoy every moments of your childhood days,
which you will miss only once you are old.
Happy Children's Day 2016
There can be no keener revelation of a society's soul than the way in which it treats its children. — Nelson Mandela, Former President of South Africa
Children are the image of God
Let's celebrate the spirit of childhood on this Children's Day.
Wishing you an awesome Children's Day 2016
Children are like wet cement. Whatever falls on them makes an impression. — Dr Haim Ginott, child psychologist
Let us try to make this world a safer place for the little ones to live. Happy Children's Day to all the little ones.
You can learn many things from children. How much patience you have, for instance. — Franklin P. Jones, American humorist
Do you worry about what out kid will become tomorrow?
Just realise that he is someone today.
Let him live peacefully enjoying his childhood.
Happy Children Day
Let us sacrifice our today so that our children can have a better tomorrow. — APJ Abdul Kalam, former Indian President
Children spread happiness and joy to us every time. Handle them with a lots of love and care. Happy Children's Day.