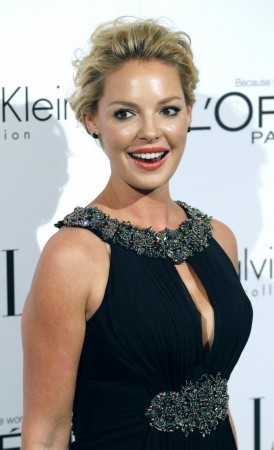 Former "Grey's Anatomy" actress Katherine Heigl, who played Izzie Stevens on the ABC medical drama, will celebrate her 37th birthday on 24 November 2015.
Heigl has come a long way since making her debut in the coming-of-age film "That Night" in 1992. Since then she has acted in a number of movies including "Knocked Up," "27 Dresses," "The Ugly Truth," "Killers," "Life As We Know It" and "New Year's Eve," making her a bankable movie star.
But, she messed up things when she went on to publicly criticize "Knocked Up" and "Grey's Anatomy" in 2008.
In an interview with Vanity Fair for the January 2008 issue, Heigl called "Knocked Up" a sexist movie.
"It paints the women as shrews, as humorless and uptight, and it paints the men as lovable, goofy, fun-loving guys. It exaggerated the characters, and I had a hard time with it, on some days. I'm playing such a bitch; why is she being such a killjoy? Why is this how you're portraying women? Ninety-eight percent of the time it was an amazing experience, but it was hard for me to love the movie," she said.
A few months later, the actress announced her decision to bow out of the Emmy race hinting she wasn't happy with how her "Grey's Anatomy" character was written.
"I did not feel that I was given material this season to warrant an Emmy nomination, and in an effort to maintain the integrity of the academy organization, I withdrew my name from contention," Heigl told LA Times.
On the heels of these controversies, a number of media reports came out claiming Heigl was a difficult person to work with.
Reportedly, Heigl lost out on 2010 romantic comedy "Valentine's Day" due to her ridiculous salary demands. It is said that the actress asked to be paid $3 million, an amount that insiders called "ridiculous".
So, does her husband Josh Kelley think Heigl is a difficult person?
"She is probably one of the most grounded, most amazing people on planet freaking Earth. And not enough people know it, cause she's so [famous] that it's easy to prey on that," Kelley said, according to the Washington Post. "She's one of the most talented people I know, one of the best moms, one of the best wives … I don't know how she puts up with me. But somehow she loves me."