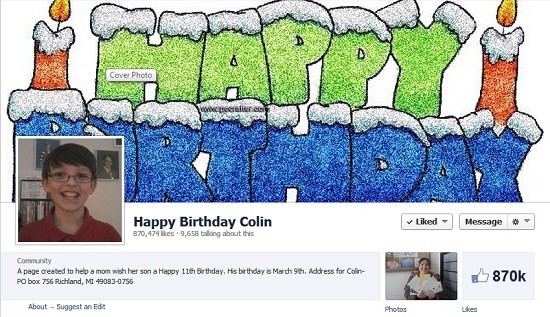 After her 10-year-old son complained to her about not having any friends to call for his birthday party, a Michigan mom decided to change things for her kid.
Colin is a 10-year old, who will be turning 11 on 9 March and suffers from a mild form of Asperger syndrome, an autism spectrum disorder (ASD), which makes him have difficulty in social interactions. He lives with his family in Richland, MI.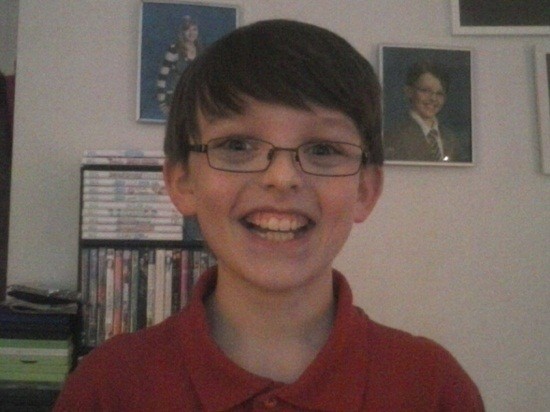 The 'secret' facebook page- Happy Birthday Colin that was created by Jennifer, Colin's mom on 2 February since its creation has had 869,778 likes and there also some 9,658 people talking about the Happy Birthday Colin Facebook page.
After creating the page, Jennifer in her first message said: " I am Colin's mom, I created this page for my amazing, wonderful, challenging son who is about to turn 11 on March 9th. Because of Colin's disabilities, social skills are not easy for him, and he often acts out in school, and the other kids don't like him. So when I asked him if he wanted a party for his birthday, he said there wasn't a point because he has no friends. He eats lunch alone in the office everyday because no one will let him sit with them, and rather than force someone to be unhappy with his presence, he sits alone in the office. So I thought, if I could create a page where people could send him positive thoughts and encouraging words, that would be better than any birthday party. Please join me in making my very original son feel special on his day."
Till now both Jennifer and Colin's younger sister Ella have kept the Facebook page a secret from the young boy and plan to keep it that way till his birthday. Colin, a fifth-grader, who is obsessed with Dr Who television programme, aspires to be a pastor,a comedian or a missionary, loves his Nintendo Ds and is very close to his little sister Ella.
'What do you think Colin's going to do when he sees it?' Jennifer asked her daughter Ella in a video posted on Facebook. 'Ummmm,' says Ella. 'Scream his pants off?'
On the Facebook page, Jennifer has also added a postal address where well-wishers can send Colin a birthday card. Jennifer had put up the postal link after people on Facebook expressed interest wanting to send the young boy a birthday gift.
The 10-year-old-turning-11 has gained the attention of people all over the world as comments and well-wishes are flowing in from world over.