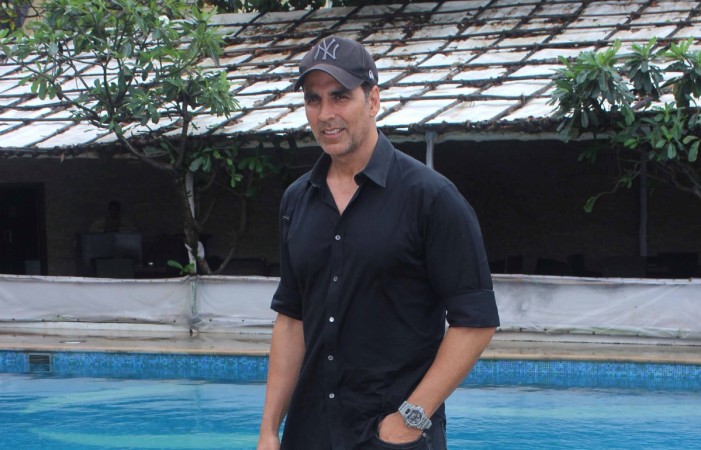 Akshay Kumar celebrates his birthday on Sept. 9 and while he has whisked his wife, Twinkle Khanna, to an undisclosed location for a quiet 49th birthday, wishes have been pouring in on social media.
Riteish Deshmukh, Sonakshi Sinha, Sajid Khan, Farhan Akhtar, Anupam Kher, Abhishek Bachchan, Sophie Chaudry and Shruti Haasan among others have sent across their messages on Twitter.
Akshay is extremely attached to his roots, which is why he often goes back to his one-bedroom flat in Chandni Chowk, New Delhi to spend some alone time and reflect on past years. He loves his Giani ice cream and attends langar at Sisganj Sahib Gurudwara.
His pre-stardom days are pretty much like a thrilling film, peppered with adventures. He used to steal watches just for fun when he lived in Chandni Chowk. He was in Bangkok for a while and during his time there, he worked at a restaurant called Metro Guest House. He is trained in Taekwondo and Muay Thai and some of these lessons were taken when was in Bangkok.
Before his big break in "Saugandh," Akshay worked as a light boy with photographer Jay Seth. His first film would have been with Aamir Khan – "Jo Jeeta Wahi Sikandar;" Akshay couldn't crack his auditions.
Unlike most of his peers, Akshay has certain ground rules on fitness. He stays active and follows a strict routine, in which he finishes off dinner at 7 p.m. and wakes up at the crack of dawn. He is extremely punctual and works fixed number of hours.
Even though Akshay is the 9th highest paid actor in the world, he likes to stay humble and more in touch with reality. He has two kids – Aarav Kumar and Nitara Khanna Bhatia.
Here are the birthday wishes for Akshay:
Abhishek Bachchan: Happy birthday @akshaykumar have an even greater year than you're having, if that is possible. Big love sundi.
Riteish Deshmukh: Happy Birthday my dearest Sundi @akshaykumar .... Wishing you love, laughter & more . Aaaaayeeeeeehhhhh
Sonakshi Sinha: Happy happy happy happy happy #HappyBirthdayAkshayKumar @akshaykumar
Anupam Kher: Happy birthday @akshaykumar. Your journey, both as a person & as an actor is amazingly inspirational. U r d BEST.:)
Farhan Akhtar: Happy birthday @akshaykumar .. Love and best wishes always..
Sophie Choudry: Happy bday to the man who looks hotter, fitter, younger every year!Much love @akshaykumar Have an awesome year #HappyBirthdayAkshayKumar
Suniel Shetty: @akshaykumar Happy Birthday Akki! Am sure age blames you for making it just a number! #HappyBirthdayAkshayKumar
Aftab Shivdasani: Happy Birthday Raju @akshaykumar ! Here's wishing you lots of love,happiness and madness #HappyBirthdayAkshayKumar
Shruti Haasan: Here's wishing @akshaykumar a very very happy birthday !!
Esha Gupta: Happy birthday @akshaykumar
Mika Singh: Happy birthday to @akshaykumar Bhaaji .. Jai mata di..
Manish Paul: Happy birthday to the man i learn alot from @akshaykumar !!!stay blessed veerji... #HappyBirthdayAkshayKumar
Sajid Khan: Happy b'day sundi!have a gr8 one!luv u lots @akshaykumar #happybirthdayakshaykumar
Suhel Seth: Many many happy returns of the day @akshaykumar and thank you for being such a fine Parsi.