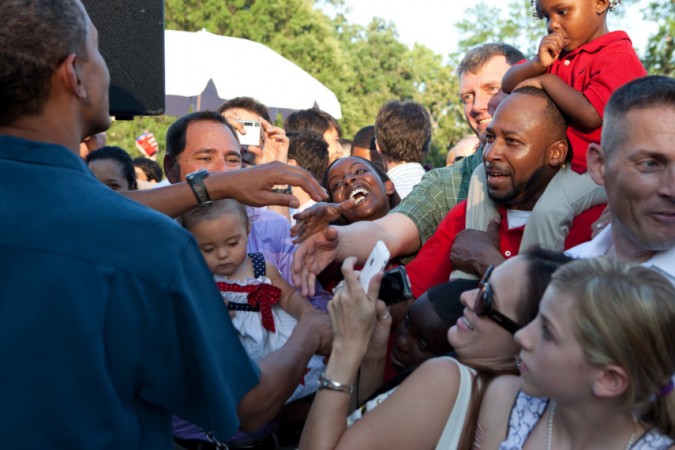 The 4th of July is upon us, and this year, Americans have several reasons to celebrate the Independence Day with fervour.
President Barack Obama announced that the US embassy will be reopened in Cuba; it was closed in 1961, according to CNN.
Another cause for celebration is the recent Supreme Court ruling in favour of same-sex marriage.
One more reason to cheer is that after almost 150 years of Civil War, the Confederate battle flag, regarded as a symbol of racism, will finally cease to fly over public buildings.
Thus, there are enough reasons for one to feel proud of being an American and its great star-spangled banner.
Here, we have compiled greetings, quotes and messages that you can share with your friends and family on 4 July to wish them a Happy Independence Day 2015:
Fourth of July Greetings
Let each one of us make a promise to ourselves
that as long as we live, we will help America grow
into a better nation with each passing day.
Happy 4th of July to you.
I feel so proud to be a part of the most powerful country in the world.
I promise to be a good citizen of my country in the best of my capabilities.
Happy Independence day to all my brothers and sisters.
Patriotic Quotes and Inspiring Quotes
Happy Independence Day Wishes and Messages
You have to love a nation that celebrates its independence every July 4th, not with a parade of guns,tanks, and soldiers who file by the White House in a show of strength and muscle, but with family picnics where kids throw Frisbees, the potato salad gets iffy, and the flies die from happiness. You may think you have overeaten, but it is patriotism. — Erma Bombeck
One flag, one land, one heart, one hand, One Nation evermore! Oliver Wendell Holmes
History and Fun Facts about US Independence Day
4th of July Quotes
Those who expect to reap the blessings of freedom, must, like men, undergo the fatigue of supporting it. Thomas Paine
I believe in America because we have great dreams, and because we have the opportunity to make those dreams come true. Wendell L. Wilkie
This nation will remain the land of the free only so long as it is the home of the brave. Elmer Davis