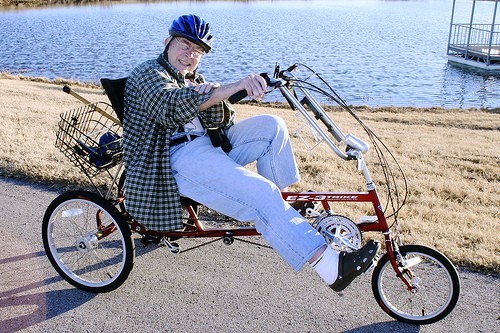 Being happy may help one remain physically strong during old age, researchers reveal.
Keeping a positive attitude towards life was associated with a better ability to perform daily activities, move or walk faster as one gets old.
"The study shows that older people who are happier and enjoy life more show slower declines in physical function as they age," said Dr Andrew Steptoe, University College of London. "They are less likely to develop impairments in activities of daily living such as dressing or getting in or out of bed, and their walking speed declines at a slower rate than those who enjoy life less."
For the study, Steptoe and colleagues studied the cases of 3199 individuals, aged 60 or above, living in England. Based on their age, the participants were divided into different groups of between 60 and 69, 70 and 79 and 80 and above.
The participants were analysed based on four questions related to life: "I enjoy the things that I do," "I enjoy being in the company of others," "On balance, I look back on my life with a sense of happiness," and finally "I feel full of energy these days."
The physical health of the participants, mainly their ability to get up from bed, dress up or take baths were noted down. Their walking speed was also measured and recorded.
People who were working, married, educated or having a higher socio-economic status reported better well-being than those who were suffering from chronic illness including diabetes, stroke, heart disease, arthritis and depression.
The inability to enjoy life was directly linked to the risk of performing daily activities with assistance in old age. "Our results provide further evidence that enjoyment of life is relevant to the future disability and mobility of older people," Steptoe and co-authors concluded. "Efforts to enhance well-being at older ages may have benefits to society and health care systems."
The study has been reported in the Canadian Medical Association Journal (CMAJ).