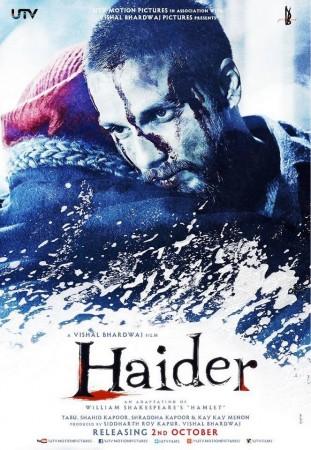 Vishal Bharadwaj's much-awaited film, "Haider", had arranged a special screening for the industry ahead of the film's release on 2 October.
While several celebs have praised the film, which is an adaptation of Shakespeare's tragedy "Hamlet", director Hansal Mehta was awestruck after watching the film.
Mehta, who is known for his film, "Shahid", was so moved by the film that he posted an open letter to Bharadwaj on his Twitter handle, elaborating his feelings after watching the film.
"A letter to Vishal Bhardwaj. Not a blog. Not a review. Just an outpouring after a sleepless night." tweeted Mehta.
In the open letter, Mehta praised the performances delivered by the entire cast of "Haider". He further congratulated Bharadwaj for his stupendous work and how he went sleepless night after watching the film.
The director started questioning Bharadwaj: "Did you really write Haider? Or did you actually paint it? Those paintings of Kashmir and its people refuse to leave me. The characters in your chutzpah – where did they come from? Your mind or your heart? Did I witness poetry last night? Or was it cinema as it was meant to be but has ceased to be?"
He even mentioned that "Haider" is a rare film and that it is a huge feat in the history of cinema. Mehta expressed his gratitude towards Bharadwaj for inviting him to watch "Haider" and hopes that the film changes him for a better director.
"Dear Vishal, it is rare that a film can actually make somebody as egoistic as me feel so humbled, so moved," says the letter, "I witnessed a grand spectacle last night, a feat I thought our cinema was incapable of achieving. I became part of an operatic journey that transformed me. After Haider, I don't think I will ever be the same director I used to be. The change, I hope, will be for the better. The change, I hope, will have me thanking you forever."
"Haider" starring Shahid Kapoor and Shraddha Kapoor is an intense tragic drama that also has Tabu, Kay Kay Menon and Irrfan Khan in pivotal roles. The film will be the third project in Bharadwaj's Shakespeare trilogy, after "Maqbool" (Macbeth) and "Omkara" (Othello).
To read Mehta's open letter to Bharadwaj, View blog.