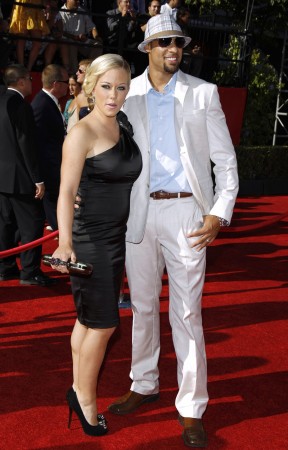 If the first glimpse of the upcoming season of "Kendra on Top" is any indication, then the marriage of Hank Baskett and Kendra Wilkinson is down in the dumps, following rumours that he cheated on his wife with a transsexual model. But there are reports that all this might be faked for the cameras.
TMZ reported that Baskett and Wilkinson were spotted at a beachside restaurant in Costa Rica on Friday and there seemed to be no animosity between the two. Sources told the website that there weren't any reality show cameras in sight, and they appeared to be enjoying hanging out together as a family.
This is opposite to what was depicted on the first look of the upcoming season of "Kendra on Top," where Wilkinson looked devastated after being told that Baskett allegedly cheated on her.
"Every word that came from the tabloids. Boom ... boom ... boom. When did he do this? While you were eight months pregnant. I felt like I wasn't even getting punched ... like I got shot," Wilkinson said in the footage.
Later, in a therapy session she claims that their marriage is doomed. "Our marriage is down the drain. I flushed my wedding rings down the toilet."
Earlier this month, it was reported that Wilkinson is planning to end her marriage to Baskett, and that she has already met with lawyers to initiate the divorce proceedings.
"Kendra's definitely looking into divorce. She's met with lawyers and is weighing her options," a source told Life & Style magazine, reported HollywoodLife. "She's the type of girl that believes once a cheater, always a cheater."
However, they are sort of struck together due to the reality show, the source noted.
"They're sort of stuck together now, and it isn't helping the situation," the source said, adding that Baskett has been pleading with Wilkinson to take him back. "He texts Kendra constantly, begging for forgiveness. He is so embarrassed and wants nothing more than to get her back.
"He knows that if he doesn't, he is always going to be looked at like a creep."