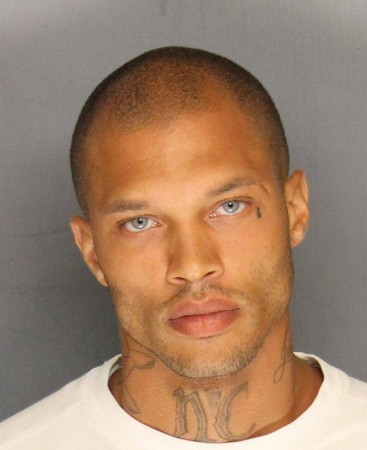 The mother of Jeremy Meeks - the convict whose 'handsome' and 'hot' mugshot released online by Stockton Police went viral last week - has finally broken her silence, insisting that her son was simply implicated with a gang he had once belonged to.
Meeks' sobbing mother told the Daily Mail that he has been waking up crying and is having a difficult time in prison from members of the Northern Crips gang, which according to her, he is no longer part of.
Katherine Angier, 60, told the British tabloid that her son was simply a victim of his previous association with gangs. She insisted that Meeks - who is married and has a son - is innocent and was arrested because he has old tattoos, which were related to the gang he was once part of.
The mugshot that went viral on the internet shows that Meeks has 'NC' tattooed on his neck, which stands for 'Northern Crips' - a gang. Also, below his left eye, he has a 'teardrop' tattoo, which is understood to be a sign for having killed someone or having spent a long time in jail.
"He got away from the gang when he met his wife and they got married six years ago," the report quoted Angier. "He moved. He started a family. This is a nightmare for him. He doesn't want any of this. He is having a hard time in jail. He told me today was the first time he woke without crying."
While adding that the 30-year-old had been trying desperately to lead a normal life, she claimed that her son - whose good looks have been admired widely - had received "many, many offers" for movie and modeling work.
The handsome mugshot of the Northern California man - whose high cheek bones, chiseled face and striking eyes shot a round of cupid's arrows on almost everyone woman who saw the picture - invited over 80,000 likes on Facebook within hours of the picture being posted.
Meeks was arrested Wednesday on five weapons charges and one gang charge, according to Stockton Police Department.
"There is nothing wrong with admiring how handsome he is. Thanks Jeremy for making mug shots look sexy!!! Hope you get something out of this blowout and get to a better path in life period," a user named Stephanie R. Lovett commented below the photograph.
"He should know his worth. He should be a model. Stop wasting time on crime," another user with the name Betty Holmes said.