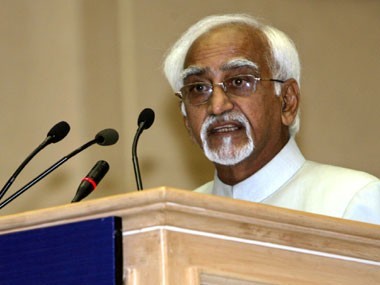 BJP National General Secretary Ram Madhav ignited a controversy on Sunday when he posted a series of tweets, first questioning Indian Vice President Hamid Ansari's absence from Yoga Day event and then apologising for hitting out at him.
"Two questions. Did RS TV dat runs on tax payers money completely black out Yoga Day event? While President participated d VP gave a miss (sic)," PTI cited Madhav's tweet, which he later deleted.
He posted a new one apologising for questioning the VP and said that Ansari couldn't make it to the International Yoga Day celebrations at Rajpath due to bad health.
"I am informed dat d VP was unwell. I withdrew my tweet. My apologies because d institution of VP deserves respect (sic)," he tweeted further. However, he deleted the other tweet, too, as it again began attracting criticism from the Twitterati.
Madhav's tweets not only attracted the attention of Twitter users, but also of VP's office, which released a statement late night clarifying Ansari's absence in the Yoga Day event.
"Vice-President was not sick. He was never invited for the yoga programme... The Vice-President only attends those programmes in which the Minister concerned invites him as per protocol," PTI quoted the statement as saying.
Responding to the statement, AYUSH Minister Sripad Naik said that VP cannot be invited when the Prime Minister is Chief Guest. (AYUSH ministry had organised the World Yoga Day event at Rajpath, New Delhi.)
"When the Prime Minister is chief guest, it is not appropriate to invite the Vice President," NDTV quoted Naik as saying.
Not only did the statement from VP's office left Madhav red-faced, but tweets from Joint Secretary & OSD to the Vice President of India and CEO & Editor-in-Chief of Rajya Sabha (RS) TV Gurdeep Singh Sappal and others lashed out at the BJP leader.
In response to Madhav's post claiming that RS TV did not air any show on Yoga Day event, Sappal tweeted a list of shows the channel did on the programme.
Baseless rumours. RSTV not just did live telecast of Rajpath event. But also had 3 documentaries, 1 special report today on Yoga.

— Gurdeep Singh Sappal (@gurdeepsappal) June 21, 2015