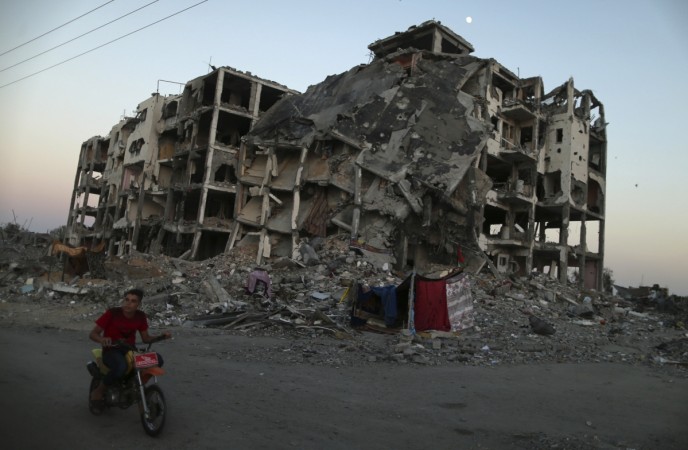 The Palestinian militant organization, Hamas, has rejected the extension of the truce in Gaza that ends at 8 am local time on Friday.
This comes as Israel has claimed the cease-fire with Hamas forces in Gaza was violated hours before it was due to expire as rockets fired from Gaza hit southern Israel.
"Moments ago, 2 rockets fired from Gaza hit southern Israel," Israel Defense Forces said in a Twitter post. "Terrorists have violated the cease-fire."
Israel and Hamas have been holding indirect talks in Cairo in order to negotiate arrangements for the blockaded coastal territory. Israel has said that it will be willing to consider easing border restrictions if the Hamas disarms itself.
Friday morning's alleged breach of the truce followed threats from both sides before the end of the 72-hour truce. The rockets fell on open ground and caused no casualties, the Israeli army has said.
A Hamas military wing spokesman earlier call on Palestinian negotiators in Cairo to reject the ceasefire extension unless and until its long-term demands were met.
The BBC quoted a Hamas spokesman as saying his organization was ready for "a long war." Meanwhile, Israel has also said it would respond forcefully if attacked.
Indirect Talks
"Indirect talks are ongoing and we still have today to secure this," an Egyptian official told Reuters when asked whether the truce was likely to be extended beyond Friday's deadline.
"Egypt's aims are to stabilise and extend the truce with the agreement of both sides and to begin negotiations towards a permanent agreement to ceasefire and ease border restrictions."
Israeli officials said on Wednesday that they had expressed their willingness to "extend the truce under its current terms." However, the deputy political leader of Hamas, Moussa Abu Morzouk, said that "there is no agreement."
Among the demands the Hamas militants has been making include lifting of the blockade of Gaza, the release of prisoners and the end of the Israeli offensive.
Israel withdrew its soldiers from Gaza on Aug 5 after they claimed they had accomplished their mission of destroying all tunnels Hamas used to stage attacks. Prime Minister Benjamin said the next day that his army remained outside Gaza, ready to deal with any cease-fire violation.