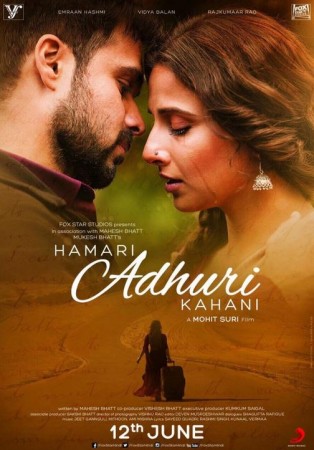 "Hamari Adhuri Kahani" starring Vidya Balan, Emraan Hashmi and Rajkummar Rao, has opened to mixed reviews from Bollywood celebs and critics alike.
Touted to be a heart-wrenching love story, "Hamari Adhuri Kahani", with a soulful music album, has barely managed to impress critics.
Produced by Mahesh Bhatt and directed by Mohit Suri of "Aashiqui 2" fame, the film is reportedly based on the lives of Mahesh Bhatt's parents ― Nanabhai Bhatt and Shirin Mohammad Ali ― and his stepmother.
Read the reviews below:
Bollywood Hungama's Review: "On the whole, HAMARI ADHURI KAHANI is definitely very 'adhuri' on entertainment value and can be skipped."
David Tusing of Gulf News said: "Considering much of Bhatt's work as director have featured strong women even when it wasn't fashionable in Bollywood, this film really makes no sense. Hashmi's talent is wasted like Balan's tears, while Rao shines in his brief psychotic role. No, this is not an incomplete story. It's just a badly told one."
Sneha May Francis of Emirates 24/7 said: "For a man, who has excelled in exploring pain and rejection with genius strokes in cinematic gems like 'Saaransh', 'Daddy' and 'Zakm', Mahesh Bhatt's 'Hamari Adhuri Kahani' fails to evoke any genuine emotion. If not for anything, go in for the laughs."
Rohit Vats of Hindustan Times said: "Hamari Adhuri Kahani is mostly dependent on its lead actors and they've done a satisfactory job. It's one of those films which reveals its latent potential and then fails to capitalise on it. Hamari Adhuri Kahani is watchable, but it is not likely to ignite a passionate fire in your heart."
Gayatri Gauri of First Post said: "This is a journey of pain: the pain of watching the talented Balan struggling to justify a badly-written role; the pain of seeing the director of Arth stuck in a time warp and refusing to grow out of a poor-me syndrome; the pain of watching Bhatt kill the memorable Kahaani girl of Ooh La La land with the that mighty Indian weapon: the mangalsutra."
Shubha Shetty-Saha of Mid-Day said: "With a protagonist so out of sync with the time and age she lives in, dialogues (Shagufta Rafiq), which seemed to belong to some other bygone era and somehow strayed into 2015, forced intensity and a story defying logic, this film is a disappointment."
Kamaal R Khan tweeted:
It's interval n I am not able to understand at all what's target audience of #HamariAdhuriKahani ? What did exactly Bhatt Sahab want 2prove?

— Kamaal R Khan-KRK (@kamaalrkhan) June 11, 2015
#HamariAdhuriKahani is such a great film tat my review will be one of the best forever.But iske Baad @mohit11481 Mujhe Kabhi Film Nahi Dega. — Kamaal R Khan-KRK (@kamaalrkhan) June 11, 2015
Stay tuned for more updates.