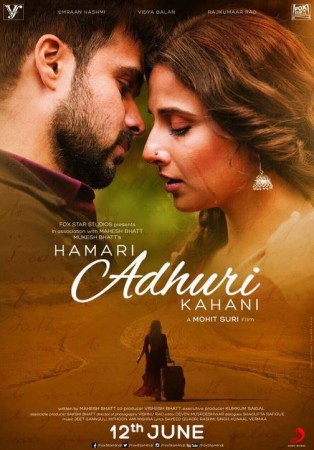 IBTimes India Rating: 1
Times like these call for that kind of meme. What my parents think I do: Sip on colas while enjoying a movie; What my friends think I do: Fridays mean movie dates with the 'special' one; What I really do: Go on a self-slapping spree to keep myself awake.
Calling Mohit Suri's "Hamari Adhuri Kahani" a snooze fest would be like honouring it with a prestigious award.
Hari (Rajkummar Rao), the obsessive husband, goes missing, and in those five long years wife Vasudha (Vidya Balan), who works as a florist in a plush hotel, falls for its owner Aarav (Emraan Hashmi).
This tragic love story that could have tugged at the heart strings, instead ends up being a laugh riot. Laced with dialogues well past expiry date, the narrative further falls prey to clichés.
Even then, the plot could have been salvaged had the brilliant set of actors been given well-written characters with depth. None are in their element.
Emraan isn't convincing in his portrayal of the multi-millionaire hotelier helplessly in love with a florist, who knows no better than to shed tears at the drop of a hat. Rajkummar's role is scanty and rushed, not giving enough scope to unleash his acting skills.
Suri has now done too many tear-jerkers to officially feature in a dictionary as a synonym for sappiness. "HAK" is mawkishly emotional and never fills you up. What's worse is the haphazard events don't allow one to build a connection with the characters, leaving little room for empathy.
The only saving grace, however, is the music. Beautiful and soul-stirring, "Humnava" and "Hamari Adhuri Kahani" stay with you.
In a nutshell, it's a blessing that it's 'adhuri'. To see a soppy love story through to the end would have been another adventure.