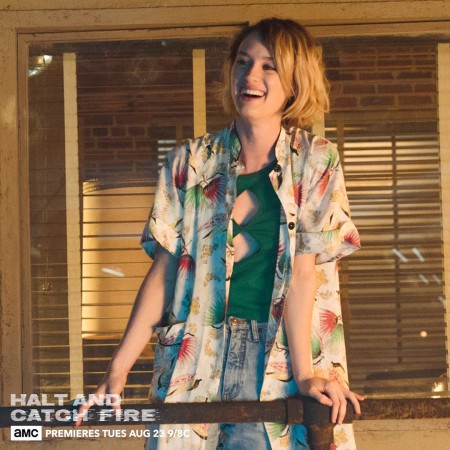 In its latest installment, "Halt and Catch Fire" will depict Cameron and Dana's life when they move along with their gaming company, Mutiny, to San Francisco. Much of Season 3 will focus on these two women's lives as they struggle to make their mark in a place swarming with big companies and heavyweights.
If Cameron and Dana's business venture in the Bay Area will be one that's enriching and in many ways, a life lesson, Gordon will reel under his health issues and a marriage that's riddled with complications. In Season 3, the creator of Giant will try to grapple with the many problems in his life, while obsessing over Joe MacMillan and his destructive attitude.
In a promo clip for Season 3 episode 1, Gordon reminisces the past and tells the employees at Mutiny about Joe. He says, "Don't you underestimate Joe. That's when he's most dangerous." Is this a foreshadowing of what Joe will do in Season 3? This remains to be seen.
"Halt and Catch Fire" Season 3 episode 1 airs at 9 p.m. EST on Tuesday, Aug. 23 on AMC. You can live-stream the episode via AMC's website.
Season 3 episode 1's synopsis (via TV Guide) reads:
In the third-season premiere, Donna and Cameron explore their options to expand beyond chat. Meanwhile, Gordon settles in at Mutiny; and Joe launches his latest product.
Here's what critics have to say about Season 3:
In episodes that alternate percolating energy with quiet ruminations on loyalty, leadership and the ways in which people lie to themselves and others, the satisfying third season builds up an admirable head of steam and gives the core cast (including the wonderful and previously under-used Toby Huss) and guest star Annabeth Gish smart material to work with. Mutiny continues to grow, but as is the case on "Silicon Valley," every fork in the road could lead to disaster and nobody's all that friendly to the new kids. "In Texas, they stab you in the front," complains John Bosworth (Huss), who adapts to the new culture, but remains distrustful of it, for all his good ol' boy bonhomie.
After watching the first six episodes of what will be a ten-episode season, it's obvious that what was true last year on Halt and Catch Fire continues to be true: Cam and Donna are the heart of the show, while Gordon and Bos (Toby Huss), the Texas-drawling traditionalist who sits on Mutiny's leadership team, play compelling secondary roles. As for Joe, at least initially he exists on his own, less interesting island.
The new season follows Mutiny's expansion from a dial-up service, which had to lease server space, to a 100,000-user community with its own mainframe. And while it is set in 1986, the issues — online privacy, technology creeping into people's daily lives, even recreational marijuana use — are strikingly contemporary.
In the third season, which picks up in March 1986, Mutiny leaves Texas for the big leagues of Silicon Valley. Founders Cameron Howe and Donna Clark search for the idea that will launch Mutiny as a player, but new collaborators test their partnership. Gordon struggles to find a place within his wife's company as Joe McMillan builds upon his empire, reinventing himself with a bold play that shocks the Valley and sends him back into the lives of his old partners.