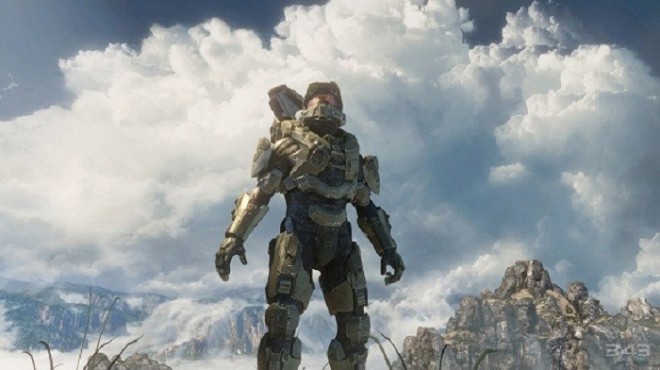 343 Industries' upcoming title Halo 5: Guardians is expected to arrive with a bang. And we have seen enough teasers, rumours and leaks on the web to justify that. Normally, Halo titles are associated with immense popularity and mega fans. The upcoming Halo 5 isn't expected to be any different.
There's a host of new details that have now emerged for Halo 5: Guardians to give players a sneak peek into what to expect from 343 Industries' upcoming game, suggests a report.
Halo 5: Guardians – Multiplayer Customization
Earlier in January, 343 Studio Head Josh Holmes had mentioned that the final build of the game's multiplayer suite will feature "a lot more," as far as character customization is concerned. He had even revealed at the time that December's "beta was a sliver of what we have planned."
Now, going by the fact that in Halo 5: Guardians multiplayer beta, players enjoyed a number of customization selections on the basis of visors, body armour, helmets and colours, Holmes has implied that fans can expect to find more such options in each of these fields.
There's even a possibility that there may be additional menu options to make Spartans look more unique to the individual, according to the report.
Halo 5: Guardians – Limited Collector's Edition
The newly announced Halo 5: Guardians – Limited Collector's Edition contains a numbered, dedicatory statue designed by the developers. The Limited Collector's Edition appeared on its official page on Amazon, aside from being confirmed by tweets from 343's Halo 5: Guardians studio head.
For the Limited Collector's Edition particularly, Amazon says that the special set will include "the Limited Edition as well as a commemorative, numbered statue designed by 343 Industries." While the statue's design has not been revealed, expect it to be one of the many rare objects that are included with the purchase.
If you are interested in the other Limited Edition contents inside the package, note that Xbox Wire said in December that that slightly cheaper collection offers "new digital content to enhance Spartan combat and exclusive items wrapped in a uniquely designed steel book."
Also, players who pre-order the standard $60 version of Halo 5: Guardians will be open to a limited edition poster from the game. But beyond that, 343 Industries is yet to specify what will be inside the steel book.
While the Limited Collector's Edition retails for $249, the Limited Edition has been priced at $99.
Halo 5: Guardians – Absolute Record and Janus Key
Keeping a tab on the new game and the previously released comic book for it, preparing players for the upcoming events of Halo 5, there are details concerning the 'Janus Key' and 'Absolute Record' that might just end up being a major part of the new game. But what exactly are these and how do they fall in for the new game?
Youtuber HaloFollower has been working hard on the case. The user has taken into account all the different possible mentions of the aforementioned topics and has discussed it this latest video.
While the runtime is just three minutes, it does bring across a number of theories that you might have shied away from considering in the past for the game.
Check it out below.
Halo 5: Guardians is set for an October 27, 2015 release and will be available exclusively for the Xbox One.