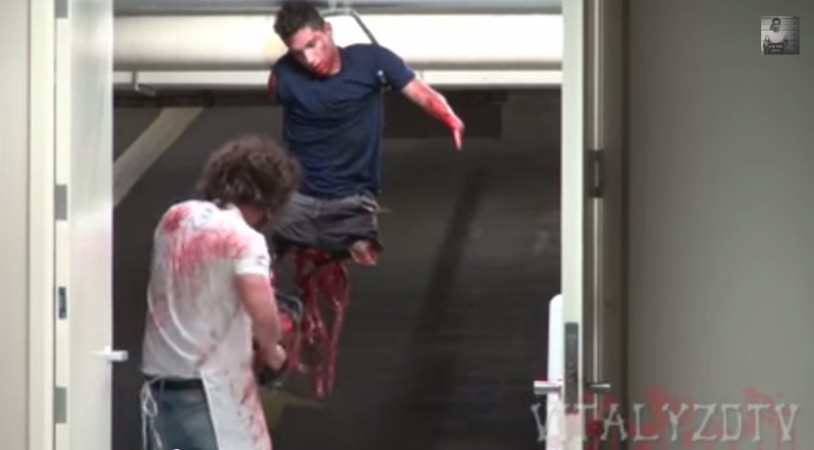 A YouTube prank video, dubbed as the scariest Halloween horror video, has raked up criticism for being "too gross".
The video, made by YouTube prankster Nick Santonastasso, has gained quite some online notoriety for being too gory.
Through the Halloween video, Santonastasso - who was born without limbs - found a perfect way to use his rare birth defect to his advantage.
In the two-minute 37-second video, titled 'Chainsaw Massacre Prank!', a bloody Santonastasso is seen crawling towards unsuspecting prank victims in a deserted parking lot.
The limbless Santonastasso then pleads: "Help me. Help me" and, all of a sudden, a chainsaw-wielding masked man, also covered in blood, comes running out towards Santonastasso, scaring the prank victims.
In another gory scene from the prank video, Santonastasso is seen hanging from a door frame, with fake blood-covered "limbs" hanging down like chopped meat, as the man with the chainsaw continues his work, when a passerby sees them.
The video contains several such scary scenes.
The video, which was posted on 15 October, has gone viral, and has been viewed by over 29,778,730 people so far.
Despite its popularity, the Halloween video has gained a lot of negative publicity, with many users seriously suggesting that the prank victims should have shot and killed the pranksters.
Halloween Prank Video: Viewer Discretion Advised
YouTube user Alex Bollbach noted: "He is making hundreds of thousands of dollars trading on the utter terror of unsuspecting strangers of which some will develop serious long-lasting mental issues from the trauma. He should pay the therapy bills, at least."
While taking it a step further, RumBearHobos stated: "I don't understand you people. Anyone with a gun who saw that would shoot, no matter how scared they were. If you would run and scream without trying to protect yourself you would be akin to one of those horror movie morons, who run and just get run down."
Many agreed that the prank video took things too far.
GoldXrose wrote: "None of this is funny he went too far!!! People are saying they surprised guns weren't used on him!! . This is not a prank it's stupid horrible grotesque!"