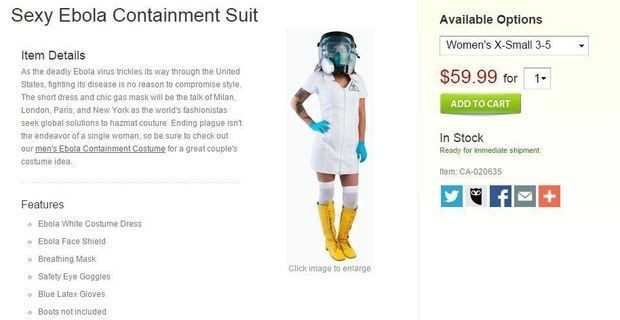 Just as you thought wearing a containment suit for the upcoming Halloween would be the most inappropriate thing to do, an online shop appears to be selling a "Sexy Ebola Containment Suit" costume, much to the shock and dismay of people around the world.
The costume which includes a dress, face shield, breathing mask, goggles and gloves is available at brandsforsal.com. The ad, which features an attractive looking woman wearing the dress, says in its description: "As the deadly Ebola virus trickles its way through the United States, fighting its disease is no reason to compromise style."
The costume is priced at $59.99 and it doesn't include the lace-up boots, which sell separately for $79.99, the Daily Mail notes.
There is also a male version of Ebola Containment suit available, which according the website is "the most 'viral' costume of the year." It is priced at $79.99
Similar 'sexy Ebola nurse costume' was also making its rounds on the Internet, but Buzzfeed notes that this one was a hoax. It was a photoshooped version of the "Sexy Breaking Bad" costume that has gone viral over the previous years because of the famous series "Breaking Bad".
"PLEASE NOTE : this item is not suitable for protection against hazardous materials" pic.twitter.com/ICpsoTKGTx

— Jason Sparks (@sparksjls) October 26, 2014
The description for latest dress, branded as the costume with the worst taste, further reads:
"The short dress and chic gas mask will be the talk of Milan, London, Paris, and New York as the world's fashionistas seek global solutions to hazmat couture. Ending plague isn't the endeavour of a single woman, so be sure to check out our men's Ebola Containment Costume for a great couple's costume idea."
This comes as another controversy has hit the streets of London as flyers advertising a so called "Saturday Night Ebola Fever" Halloween event have irked quite a few people.
All this comes just days after World Health Organization confirmed that the number of people infected with the disease had reached 10,000. Almost 5,000 people have died so far due to the virus, which is spreading like wildfire.
Here are a few angry Twitter reactions to the Ebola nurse costume:
there is actually a 'sexy ebola nurse' costume being sold on the internet..... please remove me from this planet and never bring me back

— anthony spears (@LOHANTHONY) October 26, 2014
I just saw an ad for a "sexy Ebola nurse" costume. Internet, this is why you can't have nice things. — C.J. Redwine (@cjredwine) October 26, 2014