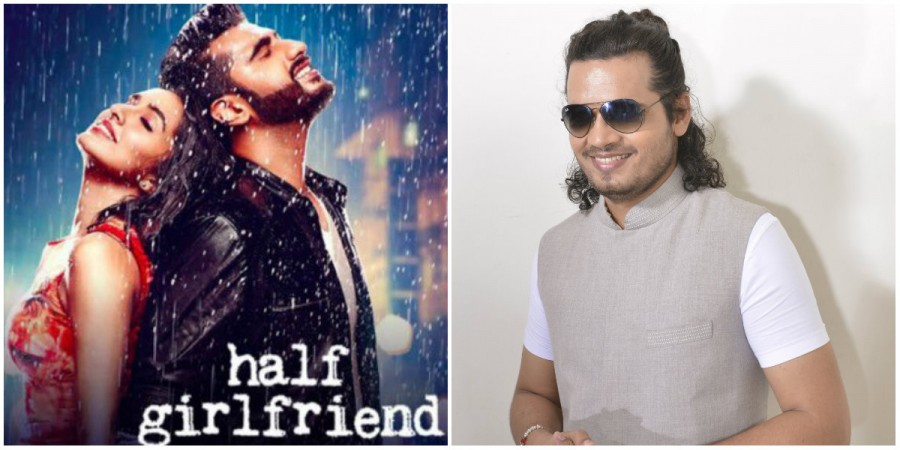 Filmmaker Mohit Suri had introduced a beautiful voice in Half Girlfriend and his name is Rahul Mishra. He crooned Tu Hi Hai, which had a staggering 2 million views on the day of its release itself.
Rahul had become an overnight sensation and now, he has released another soulful song, but not for a movie. The singer is bringing independent music back to trend and thus, talks about it with International Business Times, India.
Here are the edited excerpts of the interview:
IBT: From MBA to a singer, tell us about your journey to the entertainment world.
Rahul: I was interested in music since childhood and I used to sing at home and school where ever it was possible. After I graduated from school, I managed to get a small piano keyboard and my father took me to a music class and it felt like heaven to me. I was so fascinated to hear music all around me. Meanwhile, I started composing songs too. After gaining my MBA degree and working for a reputed company, I felt that something was missing in my and that was music. Hence, I convinced my father to let me give music a real shot and I moved to Mumbai. Initially, things were not so great as I had no clue how to go about in the industry and hailed from a very simple non-musical family. But gradually, things started changing and after a series of rejections, I started getting work and since then, it turned out pretty good. I'm grateful to my father for his continuous support and my guru Salim Khan ji for always motivating me to do good and making me believe that I can do it.
IBT: Your reaction when you got your first movie offer?
Rahul: I was very happy and shocked too, it took me 3-4 hours to make myself believe that I'm actually doing that film.
IBT: Tu Hi Hai from Half Girlfriend touched souls. How was the experience? What was your reaction when it reached to more than 2 million people?
Rahul: I'm really thankful to the audience for showing so much love to ' Tu hi hai '. It was a beautiful experience watching our song being loved and getting praised all over. My inbox was flooded with messages, I was totally thrilled with the response.
IBT: Which part you enjoy the most – singing, music composing or songwriting?
Rahul: Frankly speaking, it all started with singing after that composing and songwriting happened. On the professional platform, I present myself first as a Composer and after that if required as a singer too. I enjoy the whole process.
IBT: Share your experience of working with Mohit Suri in a film and in an album?
Rahul: I feel that every music composer who starts working in Bollywood as a musician, wants to do a Mohit Suri film because apart from being great filmmaker he is also known for his great sense of music so it was dream come true working with him. He is very expressive. While working on 'Tu hi hai' he was very clear of what we have to convey through the song on-screen. It was his idea to add a qawali phrase in ' Tu Hi Hai'. He is always so involved throughout the process of making the song. The experience of working with Mr Mohit Suri was just amazing.
IBT: What should we expect from 'Naina'?
Rahul: An artist feels satisfied when his creation reaches its ultimate destination - the audiences. The initial response Naina is getting is really encouraging. Let's hope for the best that audiences will shower its love to Naina too.
IBT: What led to Naina? What is the idea behind this special song?
Rahul: Naina is a song which is very close to my heart. As every artist at some point gets inspired by his/her surrounding or people around them, I guess Naina also happened somewhere in the same way. In the song Naina, the guy is expressing his feelings to a girl and they are having a back and forth conversation. The idea was to keep it as simple as possible both lyrically and music wise.
IBT: How independent music is different from singing or composing for movie songs?
Rahul: In movie songs, most of the times we find that there is a particular situation for which the song has to be done. So there we have to keep in consideration the characters, mood or intensity of the situation and also many times we have to follow the vision of the director, but in case of independent music, there are no boundaries on the artist's emotion. He can sail in the ocean of creativity. We can experiment while doing non- film or independent music.
IBT: Do you think the trend of independent songs is growing lately? Share your views.
Rahul: Yes. In the last 2 years we have heard lots of new artists coming up with their independent music and also many senior established artists have released their singles. I think this will definitely revive the band culture in coming years. The growth of independent music is a great thing which is happening to the audience too, they are getting to listen a lot more apart from regular movie songs.
IBT: Tell us about your upcoming projects.
Rahul: Many things are lined up, but I can't disclose them right now. Working on some really interesting stuff with EMI Records India and also working with Mohit Suri on some upcoming projects.