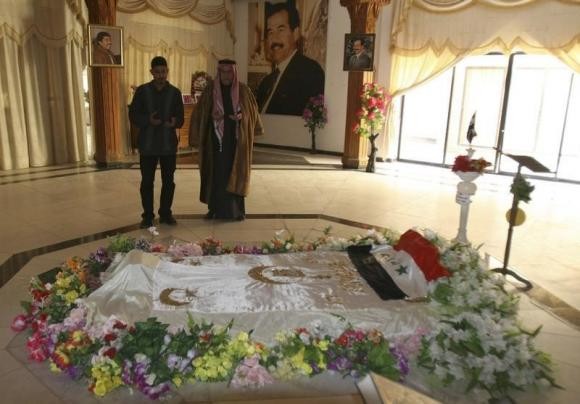 The 27th anniversary of the Halabja chemical attack also known as the Halabja Massacre or Bloody Friday coincided with the Isis' destruction of the tomb of Iraq's late dictator Saddam Hussein.
The former dictator's tomb was virtually levelled, reported Associated Press on Monday. The AP video from Ouja, located south of Tikrit, shows that the only thing remaining from Hussein's once-lavish tomb are the support columns that held up the roof.
Reports of the destruction of Hussein's tomb has emerged on a day, which is remembered as the Bloody Friday in Iraq's history. The day marks the genocidal massacre of the Kurdish people by the then ruling tyrant -- Hussein.
On 16 March, 1988, the Iraqi forces under Hussein launched a chemical attack 48 hours after it was taken over by the Iranian army. The attack killed an estimated 5,000 poeple and injured 10,000, mainly civilians. The incident, which is officially declared as a genocide against the Kurdish people in Iraq, left thousands with complications, diseases and birth defects.
It is recorded as the largest chemical weapons attack directed against a civilian-populated area in history.
On Monday, which marked the 27th anniversary of the incident, hundreds of Iraqi and Kurdish nationals took to social media to offer their tributes to the victims. Many Kurdish social media users saw the destruction of Saddam's tomb as a revenge from the victims of Halabja.
Across several Kurdish towns, memorial services are being held to commemorate the day. US Deputy National Security Council spokesperson Alistair Baskey also offered a message on behalf of the United States.
"Today, the United States honors the memory of the thousands of innocent civilians who were killed or wounded by chemical weapons 27 years ago in the city of Halabja, in Iraq's Kurdistan region," he told NRT.
Remembering Halabja- Twitter Pictures
At 11AM GMT+3 the Kurdistan Region will observe a moment of silence for the martyrs of #Halabja #TwitterKurds pic.twitter.com/rpye8WG0UA

— #Peshmerga (@rbarwari) March 16, 2015
Photos of the crime of #Halabja chemical that where more than 5,000 killed chemical gas provider from Germany to Iraq pic.twitter.com/fvFnDjfJtg — Peshmerga Forces™ (@KURDISTAN_ARMY) March 16, 2015
On this day in 1988, Saddam Hussein's regime attacked Halabja by chemical bombs,killing 5000 civilians. #TwitterKurds pic.twitter.com/8uTS2tXZpA

— Global Shapers (@GlobalShapers) March 16, 2015
#HALABJA-5 Thousand killed as an act of GENOCIDE against the Kurdish people and over 10 Thousand wounded pic.twitter.com/tUStpHxwnC

— CAPA ISMET (@dr_capa) March 16, 2015