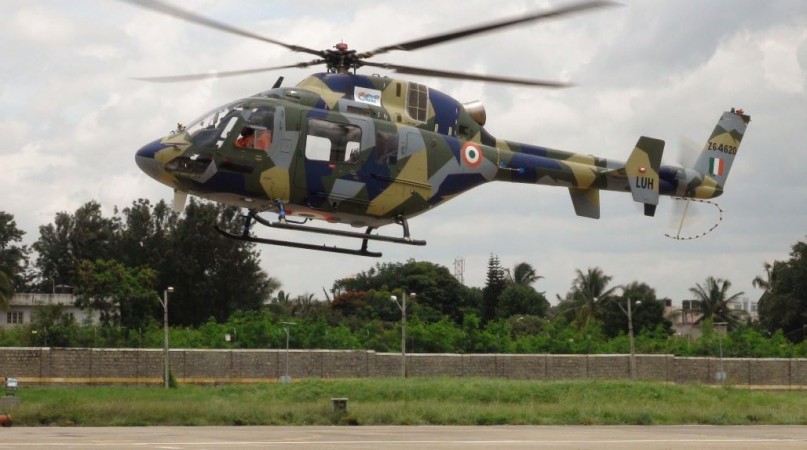 Hindustan Aeronautical Limited (HAL) successfully completed the first test flight of its Light Utility Helicopter (LUH) on Tuesday. The LUH that was test flown was an indigenously developed prototype helicopter.
The test flight took place in Bengaluru and the helicopter hovered in the air for 15 minutes. HAL termed its first flight to be "flawless".
This test flight marks an important step for HAL and the Indian Air Force, which will be eventually acquiring the Light Observation Helicopter (LOH) derivative. Moreover, the LUH will play an important role in the replacement of the ageing fleet of Cheetah and Chetak helicopters.
This is the third indigenous helicopter coming out of HAL. Earlier, HAL successfully bought out HAL Druv Advanced Light Helicopter (ALH), utility helicopter and HAL Light Combat Helicopter (LCH).
The chopper can apparently operate from sea level to places of high altitude, especially the Himalayas.
After completing all the formalities, the LUH is expected to be introduced in both domestic as well as international markets, competing with the likes of AgustaWestland AW109, Aerospatiale SA 360 Dauphin, Eurocopter EC135, Eurocopter AS355, Sikorsky S-70 and Sikorsky UH-60 Black Hawk, among others.
According to HAL, the LUH has these given specifications:
Maximum All-Up-Weight (AUW) – 3,150 kg (this places it in the three tonne class)
Safran HE Ardiden-1U engine of 750 KW power
Range – 350 km
Service ceiling - 6.5 km
Seating capacity – 2 pilots + 6 passengers
Roles – Reconnaissance, transport, cargo and rescue missions