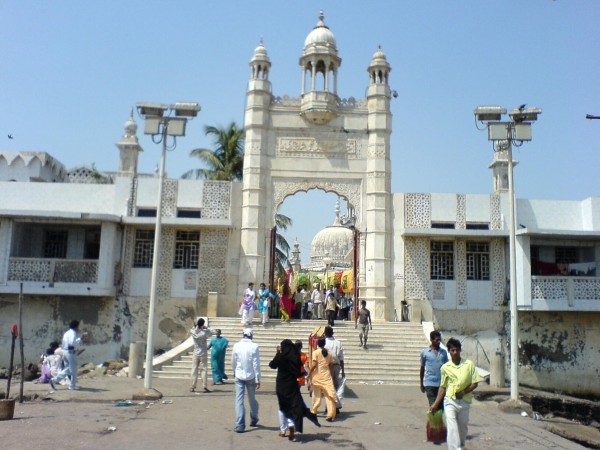 Women's rights activist Trupti Desai of the Bhumata Brigade said she would on Thursday enter the Haji Ali Dargah in Mumbai with Muslim women. People stood outside the shrine in south Mumbai holding placards asking for equality between the sexes, extending their support to Desai on Thursday, ANI reported.
Security was increased near the shrine in anticipation of trouble on Thursday. Muslim groups on Thursday said they would stop Desai if she tried to enter the inner sanctum of the shrine, much as she had during her fight for women's entry into Hindu temples' sancta sanctorum.
"We are not creating a law and order problem. People opposing us are creating a law and order situation. We are not scared. Our demands are right. Our demands are constitutional. Anything wrong that happens will be from those who are opposing the entry, not us," Desai told Times Now.
All India Majlis-e-Ittehadul Muslimeen (AIMIM) leader Haji Rafat Hussain was quoted as saying by ANI that he would throw black ink on Desai if she attempted to enter the sanctum sanctorum of the shrine.
Samajwadi Party leader Abu Azmi said he would throw Desai out of the dargah if she tried to enter the inner sanctum.
People on Twitter were divided over Desai's attempt to enter the Muslim shrine. While some said it was a publicity stunt, others supported her efforts in seeking equality for women. However, some cautioned that though the move was well intentioned, it could lead to communal riots.
"I think Shahrukh Khan, Salman Khan and Aamir Khan should state their stand on what we are trying to achieve here, on our cause... That way I believe that their fan following will join us and support us in our fight for equality," Desai told ANI.
In February, the Bombay High Court had said it would withhold its judgment till Supreme Court gave its verdict on women's entry into the Sabarimala temple in Kerala and the Shani Shingapur temple in Maharashtra.
The Maharashtra government had supported women's entry into the Muslim shrine's sanctorum, which was barred by the Haji Ali Trust in 2012. The trust argued that women are not allowed in Islam to touch the shrine of male saints.