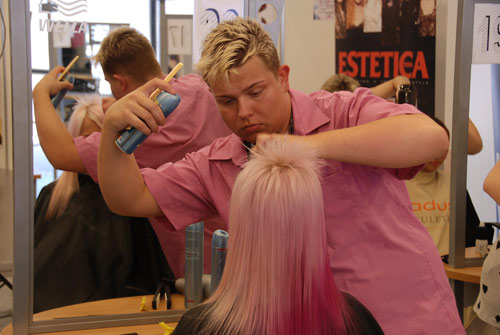 Think twice before opting a hair treatment as latest research shows hair styling may not be as safe as it appears to be.
Certain hair dyes and perming products available in the market may contain some banned toxins linked to cancer, according to a team of Swedish researchers.
Proving this, researchers from the Lund University detected high blood concentration of toluidine in hairdressers. Toluidine is a chemical linked to cancer and has been banned in cosmetics by the European Union, the Daily Mail reported.
The study looked at 327 people, including female hairdressers (295) and people who used hair dyes regularly (32). Researchers also selected another 60 people who completely abstained from hair treatments in the past one year.
While testing blood samples for the presence of eight carcinogenic compounds, researchers detected higher levels of o-and m-toluidines in hairdressers. The levels went up with the number of permanent light hair colour treatments or perming treatments the hairdressers attended every week.
Concerned with the findings, the authors urged hairdressers to take necessary precautions while applying hair dyes.
"Our study shows that there might be a possible exposure from modern hair dyes," Dr Gabriella Johansson, from Lund University's Division of Occupational and Environmental Medicine told Daily Mail.
"Our study the main focus was hairdressers as they come into regular contact with these products. By regular we mean weekly for professionals, monthly for consumers. People using hair dye should be using disposable gloves and should try to minimise skin contact as much as possible."
The study has been reported in the online edition of Occupational & Environmental Medicine. Similar to the current research, a study published in 2010 found an increased risk of bladder cancer among hairdressers.
Citing the risk, International Agency for Research on Cancer (IARC) - the specialised cancer agency of World Health Organization (WHO) located in Lyon, France - has classified hair salons and barbershops as the occupations "probably carcinogenic to humans".
However, according to health experts from the American Cancer Society, there is no solid evidence linking personal use of hair dyes to health problems. They also recommended people to switch to dyes based on vegetables to ensure safety.
Here are some recommendations from FDA to ensure safety while using hair dyes as provided by American Cancer Society:
Use the hair dye only after reading the label properly, particularly caution and warnings given on the product
Use gloves while applying dye
Keep dye on hair only till the specified time on the label
Avoid mixing hair dyes
Avoid dying eyebrows and eyelashes