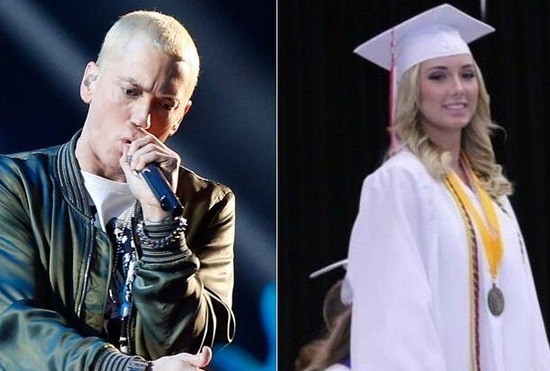 Eminem has often rapped about Hailie in many of his songs and, after all these years, the daughter has finally made her father proud.
Eminem's daughter Hailie Mathers, 18, has graduated high school with the highest honors.
Hailie, who graduated school with a Summa Cum Laude status for her high achievement, will be heading to Michigan State University to pursue higher studies in psychology, according to Independent.
The young kid finished her high school with a grade point average above 3.9, which is equivalent to an A+.
In her speech, the student of Chippewa Valley High School told fellow pupil that her parents, Marshall and Kimberly Mathers, were responsible for her success "because they have pushed me to be the person I am and have given me all the support to achieve what I have".
Hailie also recieved the Academic Excellence Award and a Department of Psychology Award. The youngster is also understood to be an active member of art club, volleyball club, key club and the student council.
Hailie was also conferred the Homecoming Queen in October last year.
In Eminem's 2005 song Mockingbird, the rapper sings: "Hailie, I know you miss your mom and I know you miss your dad, When I'm gone but I'm trying to give you the life that I never had". He also wrote Hailie's Song for her in 2002.
Eminem was spotted attending Hailie's graduation. pic.twitter.com/m1Tb7urjgZ

— Eminem Quotes & News (@ShadowOfShady) June 9, 2014
"Hailie came out with her mother Kim (Scott) when she was introduced with all the other kids but her father watched from inside the school because he didn't want to cause a scene. He wanted Hailie to have her own moment," a parent, who did not wish to be identified, told Macomb Daily.
"He opened the door and looked out like - 'That's my daughter!' He just looked like a proud father," another parent observed.
In many of his songs, Eminem has rapped about his troubled past, especially his bad childhood.
But throughout his career, Hailie was his muse. It is understood that in the early years, when his career was yet to take off, it was for Hailie's sake that the rapper kept trying, till finally he succeeded.
Eminem's daughter, Hailie Jade Scott. pic.twitter.com/gjZZFX1kwb

— Then Vs Now (@ThenNowx) April 11, 2014