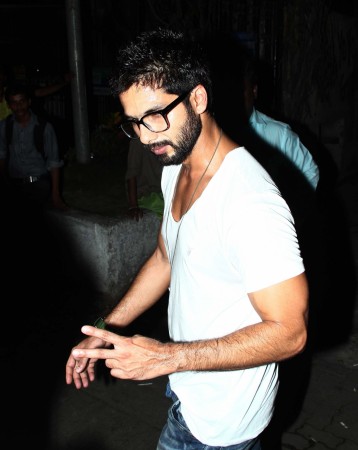 Hrithik Roshan's promotional tactics for his upcoming film "Bang Bang", where the actor is requesting his B-town friends to take up challenging tasks, has turned out to be a successful one.
While Shah Rukh Khan, Priyanka Chopra, Sonam Kapoor and others took the challenge and finished it within the given time, the recent one to accept the challenge was Ranveer Singh, who danced on the busy streets wearing "Krrish" costume and a mask as per Roshan's request.
Singh's sporty move has garnered massive appreciation from everyone including Shahid Kapoor, who seems to be impressed with Singh's hilarious yet gutsy performance.
Surprisingly, Shahid whose film "Haider" is also releasing on the same day (2 October) alongside "Bang Bang", has now expressed his willingness to perform Roshan's "Bang Bang" dare.
The "Haider" star appreciating Singh's street performance took to twitter to request his friend Roshan for the #bangbangdare
Hai der @iHrithik after seeing @RanveerOfficial video just have to say .. Why no bangbangdare for me .. N @RanveerOfficial u ragggged it

— sHAhID kapooR (@shahidkapoor) September 26, 2014
Although, Shahid has put his request, the "Krrish 3" actor is yet to respond to his tweet. It now remains to be seen what Roshan will ask his competitor to do as a part of "Bang Bang" promotion.
Proving that he believes in healthy competition, Shahid recently said that he hoped "Bang Bang", does well at the box office. Even Roshan went a step ahead and stated that their films will prove that two big films can release on the same day and work well.
With the new age actors sharing such a good bond, it looks like they do not wish to follow the seniors, who otherwise turn rivals if their films clash at the box office. Instead, the young actors these days are seen complementing each other for their movies and hard work.
"Bang Bang" is a power-pack action thriller where Roshan will be seen performing some death-defying stunts. The film also features Katrina Kaif as the lead actress.
On the other hand, Shahid's "Haider" is an intense tragic drama and an adaptation of Shakespeare's play "Hamlet". The film also stars Shraddha Kapoor opposite the "Kaminey" actor.