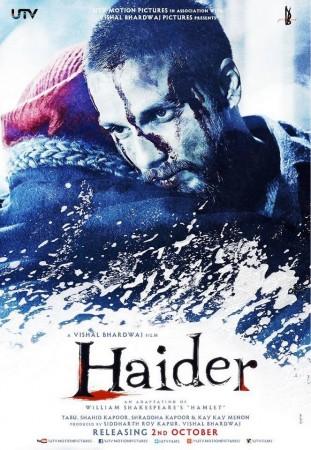 IBTimes India rating:4.5
In many years comes a film which touches your soul; "Haider" is one of them.
"Haider" is set in 1995 Kashmir conflicts, a time when the serenity of the valley and relationships were being razed to the ground.
Vishal Bhardwaj's revenge drama follows the pain-lashed relationship between a bereaved mother Ghazala (Tabu) and conflicted son Haider (Shahid Kapoor).
Haider, who is sent to Aligarh for better education, returns and sets on a rigorous search to find his father, who disappears mysteriously. The situation takes a different turn when Haider learns of her mother's sexual relationship with his uncle Khurram (Kay Kay Menon). Arshia (Shraddha Kapoor), who essays the role of a journalist, assists Haider on his journey.
Bhardwaj's brilliant adaptation of William Shakespeare's greatest play "Hamlet" does justice to the inner and outer conflicts of the characters. And it is easily one of his best.
"Ship of Theseus" fame cinematographer Pankaj Kumar captures not only the beauty but also the dark lanes of the valley. Aesthetically shot, Kashmir's pain and anguish during the unrest is brought alive. What stays with you the most is the blood stain in the snow pile - it is as emotionally exhausting as it reads.
Written by Kashmiri journalist Basharat Peer, the narrative is the strongest point of the film. And Bhardwaj's treatment of the extremely sensitive oedipal connotations is commendable. His background score, falls and rises but does enough to give you the chills.
Tabu as the 'half-widow' easily delivers a soul-stirring performance, meanwhile Shahid's tormented Haider is compelling and proves he is one of the finest actors the industry has today. Menon, as the evil uncle, shines through, meanwhile Shraddha manages to hold one's attention even with the limited screen time given to her.
In a nutshell, "Haider" impresses with a taut script and touches upon sensitive issues with effortless ease.