During the hearing at the International Court of Justice (ICJ) in the Hague on Monday, India sought "annulment" of the death sentence meted out to former Naval officer Kulbhushan Jadhav by an army court in Pakistan for alleged "espionage and subversive activities." However, Pakistan said that the 150-day clemency process should take place first and that the plea citing urgency should be "dismissed".
Pakistan also wanted to play a six-minute video of Jadhav's confession in the court, but the bench, comprising 11 judges, denied permission. The country's representative, however, displayed before the court in what appeared to be a copy of Jadhav's Indian passport issued in the name of Hussein Mubarak Patel.
Meanwhile, India also expressed fears that Pakistan might execute Jadhav even before its arguments are heard considering the fact that the neighbouring country's government has already executed 18 people since April 10.
Senior advocate Harish Salve, who represented Jadhav at the ICJ, told the court that India wants proper legal representation for Jadhav. He added that Jadhav had been framed on the basis of his confession that was forced out of him when he was in the custody of the military in Pakistan, according to media reports.
Salve also pointed out before the court that Pakistan had violated the Vienna convention by repeatedly refusing to grant consular access to Jadhav and that not providing him with proper legal representation amounted to "miscarriage of justice" and "violation" of Jadhav's right to defend himself from "concocted" charges in a "farcical trial".
Salve also raised questions over the impartiality of the process and said that Jadhav's mercy plea would be heard by "two-star generals" even though Pakistan claimed that he had the right to appeal.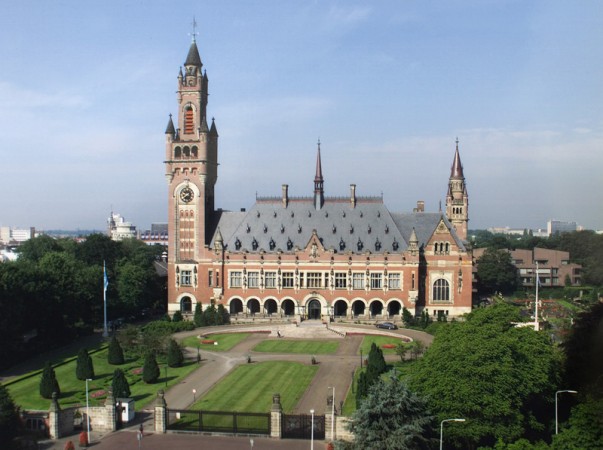 Pakistan's arguments at the ICJ
Counsel Khawar Qureshi, who represented Pakistan at the ICJ, sought the "dismissal" of India's application, saying that there was "no urgency" because the clemency process would take 150 days. He added that the provisions of the Vienna Convention on granting consular access did not apply for a "spy" involved in terror activities.
Pakistan's Foreign Ministry director general (South Asia & SAARC) Mohammad Faisal alleged that India was using the ICJ forum for "political theatre" and added that India's claim that Jadhav will be executed "within days" is "totally false". He further added that Jadhav's confession video was available publicly and that Pakistan cannot force the "canary" to stop singing.
On Pakistan's position on the granting of consular access, Qureshi referred to a clause in the bilateral consular access agreement, which says that granting consular access can be decided based on merit in political and security-related cases. He also emphasised that Jadhav was a serving officer in the Indian Navy and not a retired one. He called India's description of the Pakistani military court as a "Kangaroo court" "bizarre".
Pakistan's counsel also claimed that his side had submitted to the court names of 13 officials that Jadhav named in his confession video while India did not even submit the whole dossier to the ICJ. He added that details of the charges levelled against Jadhav, along with a copy of his passport, was handed over to the court. He also said that Pakistan wants access to Jadhav's phone records and bank account details.
Qureshi also stressed on the fact that assistance in investigation was a "fundamental requirement" for consular access. On India's assertion that Jadhav was abducted from Iran, Qureshi said that both countries have been involved in a border dispute for a long time and that there were "millions of people to choose from."
ICJ president Ronny Abraham, after hearing arguments from both sides, said that the verdict would be announced "as soon as possible" and the date "duly communicated." India had approached the ICJ on May 8 for an urgent hearing of Jadhav's case and also sought suspension of the death sentence.