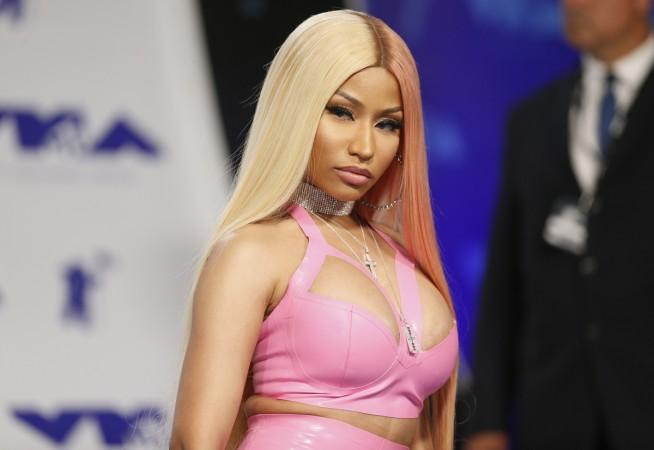 Rapper Nicki Minaj has been away from the limelight for a few months now and the last time she posted on social media was in December 2017. She is reportedly keeping herself busy with her upcoming album. But she is in news now after a song she didn't want to be a part of surfaced online.
It seems Nicki Minaj originally featured in Canadian rapper Tory Lanez's song Shooters but she decided to back out after the latter's comment about her verse. The Bang Bang singer told him to delete her portion of the song and that was it.
"She (Nicki Minaj) was on Shooters originally. She was on the record first and I had like...I was telling her something about the verse. I wasn't saying it was bad or anything, her verse was incredible and I'm also like a super-Nicki fan. But I was telling her something the verse I think maybe ...It may have come cloud texting her, so it may have come off just like in a different way..she might have read it differently than i said it," Tory told HotNewHipHop in an interview.
"I shouldn't have said about her verse and she was like well, it's just not that serious, take my verse off the thing," he added.
Tory Lanez's collaboration with Nicki Minaj ended abruptly over a misunderstanding but he said he is ever ready to work with her in the future.
Well, Tory Lanez's song Shooter featuring Nicki Minaj has been leaked by hacker group Music Mafia and it available online.
Shooter is one of the three singles in Tory's new album Memories Don't Die released earlier this month. Skrt Skrt and Real Thing are two other singles in the studio album. It also has 15 other songs like Memories, Old Friends x New Foes, 4 Me, Benevolent, Hate to Say, B.I.D, 48 Floors, B.B.W.W x Fake Show, Dance for Me, Pieces, Connection, Hillside, Hypnotized, Happiness x Tell Me, and Don't Die.
The album features guest appearances from some big names, including 50 Cent, Future, Nav, Wiz Khalifa, and Mansa.