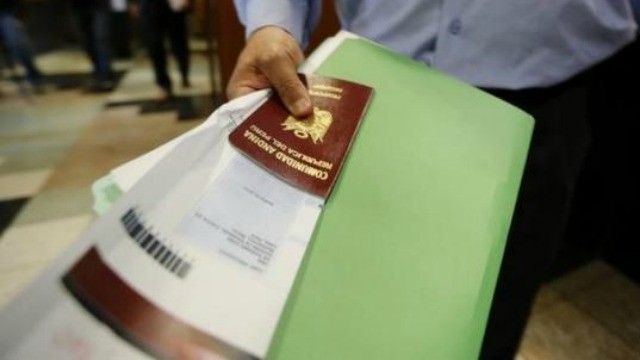 The Narendra Modi government is scheduled to discuss H1-B visa issues with an eight-member delegation led by United States Congressman Bob Goodlatte on Tuesday.
The US delegation is set to meet Union Electronics and Information Technology Minister Ravi Shankar Prasad to talk about visa issues related to movement of skilled manpower and intellectual property rights. The meeting comes at a time when US President Donald Tump's administration is proposing an overhaul of the popular H-1B visa regime in America. Trump team's proposals have caused a major concern among Indian IT firms.
H1-B visa row: US should consider skill shortage in country before passing bill, NASSCOM says
The US H1-B visa is a non-immigrant visa, which allows firms to hire foreign workers in specialised occupations. The H-1B and L1 work visas are majorly used by Indian IT professionals. Currently, the cap on H1B visas stands at 65,000, out of which 25,000-35,000 are issued to Indian nationals.
Indian's National Association of Software and Services Companies (NASSCOM) met with the US delegation on Monday and shared Indian IT industry's views.
"We have shared our views with them that Indian IT industry is a large contributor to job creation in the US and we bring skills in areas where there is a huge skill deficit," Nasscom president R Chandrashekhar told Press Trust of India.
The US markets account for more than 60 percent of Indian IT sector's imports and a crackdown on the H1-B visa could result in higher operational costs and shortage of skilled workers for the $110 billion Indian outsourcing industry.
Reports state that as the chairman of House Judiciary Committee, Bob Goodlatte, plays a crucial role in formulating policies around high-skilled immigration and intellectual property in the US Congress.
On Tuesday, the Indian side is expected to point out direct jobs being created by Indian IT companies in the US and their contribution to the American economy, as an argument in favour of the H1-B visa.
NASSCOM, along with top industry leaders, is scheduled to meet the US lawmakers later this week to further express and discuss their concerns around Trump administration's clampdown on the flow of manpower between India and the US.
Last month, NASSCOM had said that the US needs to consider the dearth of specific skill shortage in America before introduction of Bills like the latest one targeting H1-B visa holders. The Bill was introduced in the US House of Representatives by California Congressman Zoe Lofgren.
The Bill, among other things, called for doubling the minimum salary of H-1B visa holders to $130,000 from the current minimum wage of $60,000. However, NASSCOM, the Indian IT trade association, has said that if passed, the Bill will deal a huge blow to the migrant workers dependent on the H1-B visa, particularly the Indian workers.