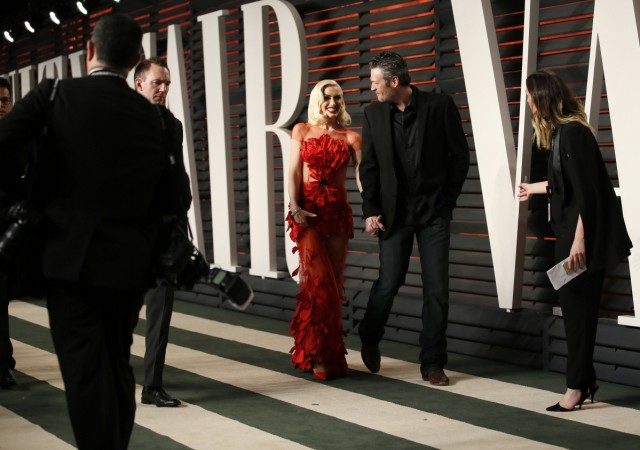 Gwen Stefani seems to have been having some issues with her wardrobe. "The Voice" coach suffered a fashion mishap, not once, but twice in the span of last one month, in her appearance at two most high profile events.
The former "No Doubt" front woman first suffered a cheeky wardrobe malfunction at the Oscar party last month, and most recently at the "Saturday Night Live" after party.
According to Radar Online, Stefani wore a sexy red Yanina Couture dress to the Vanity Fair Oscar party Feb. 28, where she appeared with boyfriend Blake Shelton. The dress was underscored with satin floral petals, just enough to cover her modesty, and was held by double-sided tapes. Though the dress didn't reveal the parts that onlookers expected, it ended up embarrassing her while she was getting into the car after the show.
The singer accidentally revealed her booty to the cameras as she made her way to the back seat of the car.
And now, Radar Online has yet again reported that the singer accidentally flashed her butt in fishnet stockings in New York after her "Saturday Night Live" appearance April 3.
According to the report, not only did Stefani reveal her derriere, but also suffered a malfunction in the front when her black panties were exposed to the cameras through her multi-coloured, super-short skirt, that had she paired with Christian Louboutin pumps.
It looks like these unfortunate wardrobe malfunctions are clues enough for Stefani to get a wardrobe makeover.