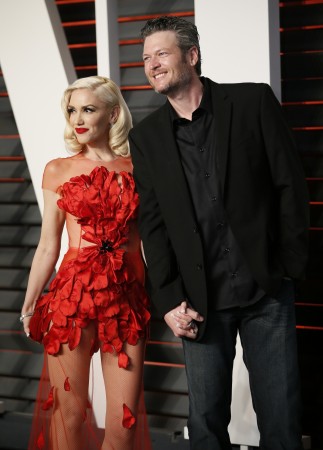 Pregnancy rumours have been plaguing Gwen Stefani shortly after she confirmed her relationship with country singer and "The Voice" judge Blake Shelton in November. And now, a new report alleges Stefani has suffered a miscarriage and that she fears Shelton would leave her if she doesnt conceive.
However, the claim, made by Star magazine in its latest issue, has been debunked by Gossip Cop.
"Gwen's Baby Heartbreak!" reads Star's cover, and the story is accompanied by photographs of Stefani in the parking lot of a Los Angeles hospital, reported Gossip Cop. According to a Star magazine source, Stefani and Shelton have been "trying to conceive for four months," but now "may have to abandon their hopes for a child together."
The unidentified source also claims that Stefani has refused to talk about her condition. "She doesn't want to talk about it, but her friends are afraid she might have had a miscarriage or was told that she can't have any more kids."
"Gwen and Blake are so in love and have been trying like crazy to conceive a baby. They thought it happened — she told him she had all the signs of being pregnant," the source continued. "They were absolutely ecstatic and couldn't wait for the doctor to confirm the happy news."
Elaborating on Shelton and Stefani's future plans, a HollywoodLife source revealed that they weren't actively trying for a baby, "but if an accident happens they wouldn't consider it an accident. They would embrace it and love it if it happened." The thing is, they are having a lot of fun together and as much as a child would be amazing, they are not actively trying for it.
"They are taking things day by day and enjoying the honeymoon phase that they are still in," the insider added.