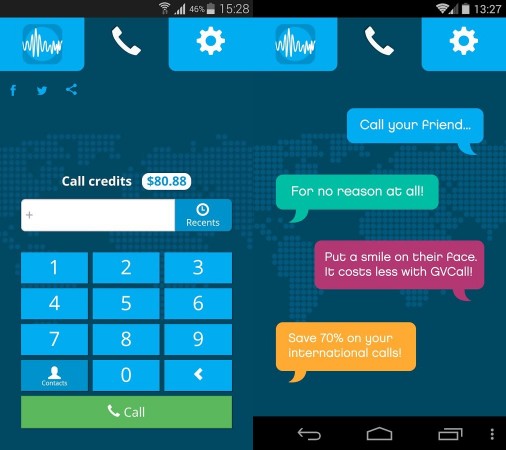 Global Voice, a Norwegian telecommunication company that offers high quality and affordable international mobile-to-mobile and mobil-to-landline calls, announces the launch of its free-to-download GV Call mobile Android app.
The app has an edge over any other mode of calling as it offers superior quality as compared to VoIP (Voice over Internet Protocol) and has access to Worldwide GSM. Additionally, it needs no Wi-Fi connection and can be availed at very low international rates. However, it is to be noted that it is a prepaid service and does not provide free international calls.
The provider claims that GV Call will offer better quality calls than VoIP and it can also be accessed from anywhere around the world. It also claims that the app can work fine even on 2G networks and is purported to offer same call clarity like any GSM network does. The Global Voice also claimed that customers can now save nearly 70% of their expenses as compared to the regular phone calls with this app.
"Globalisation has manifested itself in every nook and corner of the world and India is no exception to that," said Global Voice Asia Regional Director Morten Hofstad, "As more and more ideas, products and people are getting transferred from India to around the world, creating a system of global integration; the world is getting smaller and smaller every day."
"In order to keep this global integration going, people need a communication system which is glitch-free with great connectivity and clarity without burning holes in their pocket. In view of this, we are absolutely optimistic and excited about the launch our GV Call Mobile App," he added.
Users can download the app from Google Play Store or Apple App Store to make calls anywhere in the world. To avoid expensive mobile roaming charges when you bring your phone abroad, simply use the "Calling from" option in the menu to deliver your calls back to a local landline or local mobile number. This can be your hotel number, a local friend's mobile number, or any local phone number of your choice.
Global Voice anticipates having more than a million customers in India over the next three years, and is extremely positive about its adoption in the country. It also foresees opportunities in many other Asian countries and has already established strategic partnerships in countries like Indonesia, Myanmar and Malaysia.