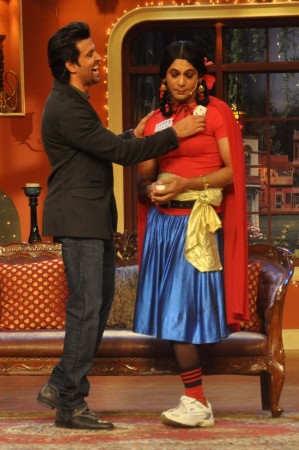 Sunil Grover well known for his role of Gutthi on popular show "Comedy Night with Kapil" has quit the show, which has led to several speculations.
While several rumors like monetary issues and difference between the show's makers have been doing the rounds, it is now being said that Grover is interested in starting his own show.
"The makers couldn't gauge what was on Sunil's mind. He started off by demanding triple the remuneration and then requested to be released for a few days, saying he had to attend a show abroad. However, there was no such event and we learnt that he was busy pitching his show to various broadcasters. He wants to host his own show, titled The Gutthi's show, and interview celebrities," revealed a source to Times of India.
Reports have also circulated that Gutthi's growing popularity in the show caused discomfort for many in the show, which forced Grover to quit.
"A lot of people associated with the show didn't like the fact that Sunil's Gutthi act had become the show's USP. Subsequently, there was a lot of interference in the way he projected himself in the show. Grover began to feel stifled. Rather than stay on in a situation that was growing increasingly difficult, he chose to walk out," said a source to Shubhash K Jha.
In a situation like this, it becomes highly plausible that Gutthi's exit from the show is the an attempt by the actor to carve out his own niche.
Furthermore Daily Bhaskar quoted the actor's manager saying that Grover left the show for commercial reasons and aslo since he had issues with the Channel airing the show. And specualtions are ripe that the talented actor might return in a show of his own which will be aired on a rival channel.
Meanwhile, Grover's clarification that all is well between him and show makers and that his contract with the show expired is questionable since the CNWK has not even completed six months duration. The popular comedy show headed by Kapil Sharma began on 22 June this year and any contract this brief is doubtful.