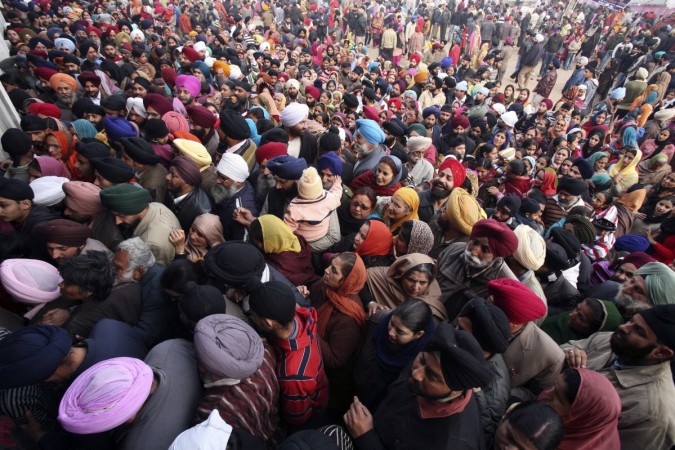 The police resorted to lathicharge and used water cannons when members of the Haryana Sikh Gurdwara Management Committee (HSGMC) tried to forcibly enter a gurudwara in the Kurukshetra district.
"As members of HSGMC made a forceful attempt to enter gurdwara Chhevin Patshahi here, police used water cannons, tear gas shells and cane charge to disperse the agitated members," Kurukshetra Superintendent of Police Ashwin Shenvi told PTI.
The clash started when the HSGMC, trying to enter gurudwara through the police barricades, were stopped by the police. A mob took to violence and started pelting stones, to control which the police had to use water cannon and tear gas.
HSGMC members were supposed to hold a meeting in Kurukshetra to discuss and resolve the dispute with Amritsar-based Shiromani Gurdwara Prabandhak Committee (SGPC). The former wants to take over gurudwara's managerial control from the latter.
Meanwhile, the HSGMC leaders claimed that those who came from Punjab resorted to violence and that they are innocent. They also condemned the police for taking such measures to deal with the mob.
"A group of around 300-400 people from Punjab under the banner of Sadbhavna Jattha reached the spot where we had been peacefully protesting for all these days. They started pelting stones at us and then the clash took place... We are not to be blamed for this clash," HSGMC vice president Didar Singh Nalvi told Indian Express.
The police admitted they are not sure as to which group started the clash.
"It is not yet certain that to which group protestors belong. A group of people started pelting stones at the police and members of HSGMC tried to scale the barricades. Police had to resort to cane charge and firing tear gas to disperse the agitated mob," Inspector General Rajbir Deswal said.
The clash left many people injured including policemen and media persons, and damaged several vehicles around.
To avoid further violence, the police asked SGPC task force members, who were already present inside the Chhenvi Pathshahi gurudwara, to leave but they declined to do so.
The police assured that the situation was under control although it remained tense.