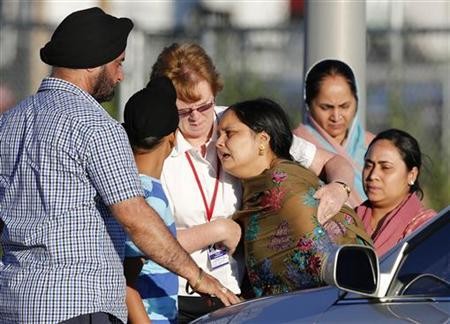 The latest shooting incident at a Gurudwara in Wisconsin, where at least seven people were killed on Sunday, brought to question national security against terror attacks that continue to pummel US states over the past decade.
Despite US officials claiming to be successful in checking terrorism following the 9/11 twin tower attack, the nation is often a victim of home-grown extremists, who often resort to mass shooting and killing scores of people.
In the wake of the Sunday's Gurudwara gunshoot, here's a look back at some of the horrifying mass shooting incidents that took place in US streets, schools and other commercial places in the last ten years.
In 2012, a masked gunman identified as 24-year-old James Holmes, opened fire during the premier showing of "The Dark Knight Rises" at a cinema located in the suburbs of Denver, killing at least 12 innocent movie goers and injuring more than 50 others.
Earlier in April, a former student at a small Christian college gunned down seven people and injured others when he opened fire in the middle of a classroom. This incident is considered as one of the worst shooting cases in the state of California.
One Goh, 43, who was accused of the shooting rampage at the California school, was expelled from Oikos University over "anger management" issues and reportedly showed no "remorse" for killing people.
"We know that he came here with the intent of locating an administrator and she was not here. He then went through the entire building systematically and randomly shooting victims," Oakland Police Chief Howard Jordan said according to Reuters.
In 2011, Michael E. Hance, 51, opened fire on the streets of Copley Township, Summit County, Ohio on a Sunday morning. At the end of his mass shooting rampage he killed 8, including his girlfriends before police shot him to death.
A family tussle reportedly provoked Hance into committing the massacre using two handguns.
In March 2009, Michael Kenneth McLendon carried out a shooting spree in Geneva country, killing 11 people, two of whom were children. Most of the victims belonged to his family, including his own mother, who was his first victim.
McLendon was 28 years old when he executed the Geneva massacre. He first set his house on fire before taking to the streets to kill people. Before police forces took him down, McLendon had already gunned down 11 and injured many, including an officer.
In 2007, Robert A. Hawkins killed nine people in Westroads Mall, before turning the gun on himself. He was 19 years old when he began the mass shooting, which is considered as the deadliest killing spree in Nebraska.
Prior to the incident, Hawkins allegedly wanted to commit suicide. However, he thought better and decided to shoot people before killing himself in a bid to become famous.
In 2007, the Virginia Tech massacre was also a case of murder-suicide. The incident is considered as one of the worst school firing incidents in US history.
Seung-Hui Cho, the 23-year-old assassin, opened fire on the campus of Virginia Polytechnic Institute and State University in Blacksburg, Virginia, on April 16, 2007. He killed 32 people and wounded 17 others in two separate attacks before killing himself.
As part of his well-thought-out strategies, Cho also sent pictures of himself posing with guns to NBC in the morning of the incident.
In 2005, the Red Lake massacre was another shooting incident, which occurred at two separate places on the Red Lake reservation in Red Lake, Minnesota.
On March 21, Jeffrey Weise, who was then 16 years old, engaged himself in a shooting rampage, with his first victims being ]his grandfather and his grandfather's girlfriend. Weise reached Red Lake Senior High School in his grandfather's police vehicle and shot seven people to death on the school campus. His other victims included five students, a teacher and a security guard. The teen eventually turned the gun on himself.
In 2002, the Beltway sniper attacks were a hard nut to crack. The shooting spree in Washington DC went on for three weeks and was literally a wild goose chase for authorities.
John Allen Muhammad and Lee Boyd Malvo jointly killed ten people in Washington D.C, Maryland, and Virginia before they were arrested.