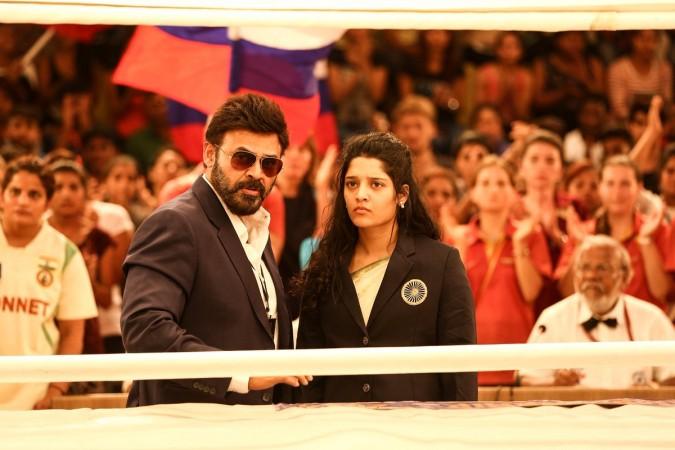 Bored of regular commercial potboilers? Then, here is a flick that comes as a breath of fresh air for the Telugu audience in the form of Guru, a sports-drama starring Venkatesh and Ritika Singh. Sudha Kongara Prasad has remade her successful Bollywood film Saala Khadoos (Irudhi Suttru in Tamil) to Telugu.
Story:
Guru tells the story of boxer Aditya (Venkatesh), who is a victim of dirty politics. His talent is suppressed by the system. When everything seems to be over in life, a new chapter opens up as he takes up the job of a coach. He lands in Vizag with no hopes of finding a girl, who can accomplish what he could not – a gold medal in the national level championship.
To his surprise, he meets Rameshwari aka Ramulu (Ritika Singh), who shows him promising signs. Her natural flair for boxing catches his attention and the challenge before him is to make her realise her true potential. It is not a cakewalk as she lacks the killer instinct. What follows next should be seen on-screen.
Review
The writing is exceptionally good and the strong cast effortlessly conveys the various shades of their characters. Venkatesh impresses the viewers as an eccentric boxing coach, while Ritika has come out with more or less similar performance from her Saala Khadoos.
Looking at the original, Sudha Kongara has not gone in for much changes in portraying Ritika's character or the way her character unfolds in the film. The solid storyline and stirring climax ensures that we leave the theatre on a happy note. The review is not complete without mentioning Santhosh Narayanan, who get full marks for his music and no drawbacks in KA Sakthivel's cinematography either.
What Critics Say about the film? Find it below:
"The tone of storytelling in Guru digresses a lot from the conventional methods of Telugu cinema. It's not just Venkatesh who finds himself in an unfamiliar territory, but Sudha pushes the audiences too to look at life beyond the glamour of RK Beach and bird's eye view of Vizag from atop Kailasagiri," writes Hemanth Kumar from First Post.
Sowmya Sruthi from Times of India writes, "it was Venkatesh written all over the script. He stole the show with his remarkable performance as a strong-headed coach with a rugged makeover that suits him perfectly."