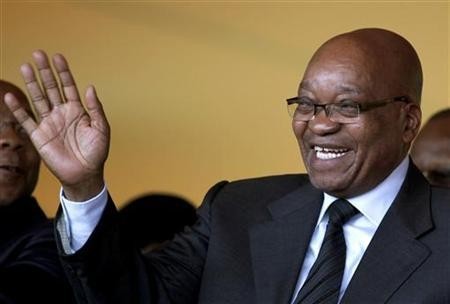 South African President Jacob Zuma has found himself in an embarrassing situation after reports emerged that he might have allowed a private chartered aircraft, en route to a marriage ceremony, to land at a restricted military air base on Tuesday.
An A330-200 Jet Airways flight carrying 200 people who were to attend a wedding in a politically connected Indian family, the Guptas, landed at the Waterkloof Air Force Base near Pretoria. Chief of State Protocol Bruce Koloane was suspended on Thursday amid a probe into the lapse.
The South African Press Association reported that Jacob Zuma, who is close to the influential Gupta family, was invited to the four-day event, dubbed by South African media as the "wedding of the century", but had backed out.
The Guptas are one of the richest families in South Africa, and they are allies of the ruling African National Congress (ANC) party.
A spokesperson of the Gupta family said the chartered aircraft had to land at the air base as the Lanseria International Airport could not accommodate such an aircraft. Also, the South African National Defence Force said they were not aware of any permission being granted.
Armstrong Changsan, Indian Deputy High Commissioner to South Africa, said that the High Commission was given permission from South African authorities, as the aircraft was carrying some Indian government officials.
However, Department of International Relations and Cooperation (DIRCO) spokesman Clayson Monyela said that neither DIRCO nor the presidency granted the permission for the aircraft to land at the air base.
"We also want to categorically state that no executive authority was granted either by DIRCO or the Presidency for this civilian aircraft to land at Waterkloof airbase. However it became clear that flight clearances were secured with the involvement of some officials hence this decision," DIRCO said in a statement.
"Preliminary investigations have revealed the need to probe the circumstances under which the clearances for the aircraft to land were secured. The department takes this matter in a very serious light,"
Police Minister Nathi Mthethwa has also ordered a probe following reports that the South African National Police Service provided a VIP escort for the Gupta wedding convoy as they drove from Waterkloof to Sun City.
"I have further instructed that in the event that such transgressions occurred, that the law must take its course on any person found to be responsible," Mthethwa said in a statement issued on Thursday.
Meanwhile, the wedding of Indian-born Aaskash Jahajgarhia and Vega Gupta kicked off at a luxury casino and resort in Sun City on Tuesday night. Vega, 23, is the niece of the millionaire brothers Ajay, Atul and Rajesh who own The New Age newspaper and Sahara Computers.