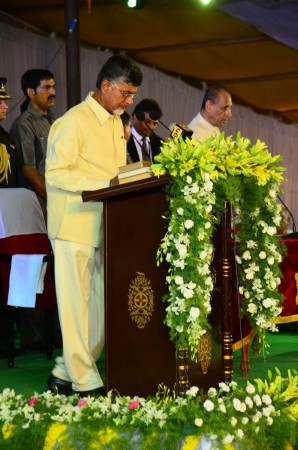 A National Institute of Disaster Management (NIDM) will be established in Andhra Pradesh much before the stipulated 10 years, Union Minister of State for Home Kiren Rijiju stated in Rajya Sabha on Wednesday, 23 July.
As per the Centre's initiative, Andhra Pradesh government has identified land in Guntur for establishing NIDM. The disaster management institute has been sanctioned to AP as per the Andhra Pradesh Reorganisation Act, 2014, Rijiju said.
AP among states below national average of literacy rate:
Andhra Pradesh is among the 11 states, where literacy rates are lower than the national average, Union Human Resources Minister Smriti Irani told the Lok Sabha on Wednesday.
Other states that have a low literacy rate are Arunachal Pradesh, Assam, Bihar, Chhattisgarh, Jammu & Kashmir, Jharkhand, Madhya Pradesh, Odisha, Rajasthan and Uttar Pradesh, as per Census 2011. Various factors such as poverty, gender and social inequalities are impeding literacy in the country, she added.
To impart functional literacy to 70 million non-literates in the country, the "Saakshar Bharat," a Centrally Sponsored Scheme for Adult Education and Skill Development, was launched on 8 September, 2009 and brought to implementation with effect from 1 October, 2009, Irani noted.
PepsiCo, other MNCs to enter AP's agriculture sector:
Meanwhile, Andhra Pradesh Chief Minister N Chandrababu Naidu on Wednesday said that his government is set to bring in multi-national companies (MNCs) such as PepsiCo into the state's agriculture and its allied sectors.
Naidu said this while releasing a paper on the state's agriculture sector on Wednesday. Besides roping in MNCs, latest agriculture methods and technology will be initiated in agriculture, the CM said. Impetus will be given to soil testing, agriculture research, use of satellite imagery, remote sensing and other latest methods in agriculture.
The Chief Minister requested farmers in the state not to resort to suicides due to their hardships in agriculture sector. He promised to solve problems of farmers in the state. During the previous Congress rule in the erstwhile united AP, 1,943 debt-burdened farmers had committed suicides, he added.
Naidu said crop loan waiver announced by the State government has given a much needed relief to farmers and added that the loan waiver alone can't solve all problems of farmers.
"About 70 per cent of the people are still dependent on agriculture and the government will take all steps to make this sector profitable," Deccan Chronicle quoted Naidu as saying.
20 litres water for ₹ 2:
Andhra Pradesh Minister for Panchayatraj and Rural Water Supply C Ayyanna Patrudu announced the NTR Sujala Sravanthi scheme, under which people will be supplied 20 litres water for ₹2. The scheme will be launched in the state's 5,000 panchayats on 2 October.
The ₹150 crore proposal of the drinking water supply scheme has been sent to the Centre, the Minister said.