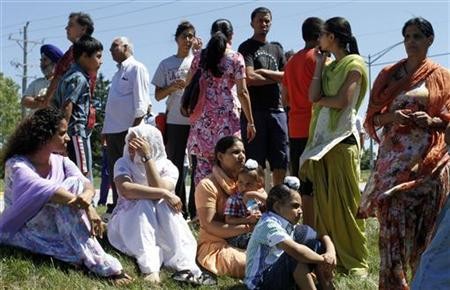 At least one gunman opened fire at worshippers at a Sikh temple in Oak Creek, Wisconsin, killing at least seven persons and injuring several others on Sunday morning.
Four people were shot dead inside the temple and three others, including a shooter, outside the temple, reported Milwaukee Journal-Sentinel.
An officer, who responded to the Sikh Temple and "engaged an active shooter," was shot multiple times, before returning fire. A shooter is "down" outside the facility, reported Fox6 News.
The dispatcher for Oak Creek Fire Department told Reuters that first reports of the shooting came in about 10:30 a.m. local time (1530 GMT).
A gunman is still suspected to be in the temple.
City councilman Alderman Dan Jakubczyk told CNN that at least one gunman may still be inside the temple holding several people hostage. "As far as I know, it is still an active situation," Jakubczyk said
"We are really vigilant. We are really concerned. I just want to say this temple was built a number of years ago and there have never been any problems with this temple," he added.
Carolyn Bellin, a spokeswoman for Milwaukee's Froedtert Hospital, said one of two men brought there from the incident was in surgery early Sunday morning, while the other was in the surgical intensive care unit, reported CNN.
There is no immediate information on the casualty but sources said that over 10 people were wounded in the shootout and several others taken hostage.
Journal Sentinel reported that someone, who sent a text message to its reporter shortly before noon, said that there were two shooters with children possibly as hostages. It added that the head priest was locked inside a restroom with a cell phone and that there were as many as 20 to 30 victims.
One of the temple's committee members, Ven Boba Ri, said that based on communication with people inside the temple, the shooter was a white male in his 30s, reported the journal.
Gurcharan Grewal, president of the Sikh Religious Society of Wisconsin, told CNN that he has heard from multiple people that there were wounded people still inside the temple and that there may have been multiple perpetrators.
Police have condoned off the area and ambulances and the fire department are in the vicinity.
The Sikh Temple of Wisconsin was established on October 1, 1997 with 350-400 people in the congregation according to its website.