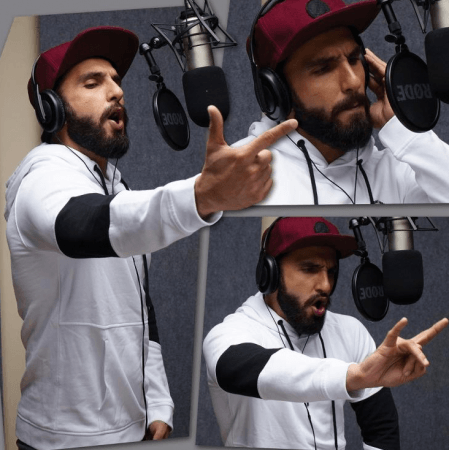 Padmavat actor Ranveer Singh has been shooting for Zoya Akhtar's Film Gully Boy since February and is working hard to get into the skin of the character of Divine. The actor has been spending time with the rappers Divine and Naezy from Mumbai on whom the film is based on.
On Thursday, April 5, Ranveer posted a video of him rapping Divine's new video song titled Paisa Nhi Rap Mera Shauk hai on his Instagram Story and he was really good. He even tagged Divine in his story. Check it out:
Ranveer will be wrapping up the shoot by the end of April and his commitment to the movie can be seen on his social media that makes the movie more exciting and much awaited. The movie also stars Alia Bhatt in the lead role with Ranveer. During an interview with a leading magazine, Ranveer had said, "This is my first feature film with Alia Bhatt, my second with Zoya Akhtar… two extremely talented people. It's a space never explored before, a space I relate to. I have a special place in my heart for Hip Hop. It's a story of underdogs - these two kids, who grow up in tough conditions only to find expression in art and music. I believe it could have only been me in this role. Rapping has been a side skill ever since school."
In an interview with a Mid-day, Rapper Divine spoke about Ranveer and said, "Ranveer genuinely loves hip-hop (music). Currently, we are listening to music and jamming together."
Reports suggest that after Gully Boy, Ranveer Singh will shoot for Rohit Shetty's Simmba starring Sara Ali Khan. In an interview with The Indian Express about his upcoming film, Ranveer said, "True, but I am very nervous too because it is not easy to perform in mainstream films and it's not easy to make one either. It could be called my biggest solo outing. It is my first 'in and as' film."