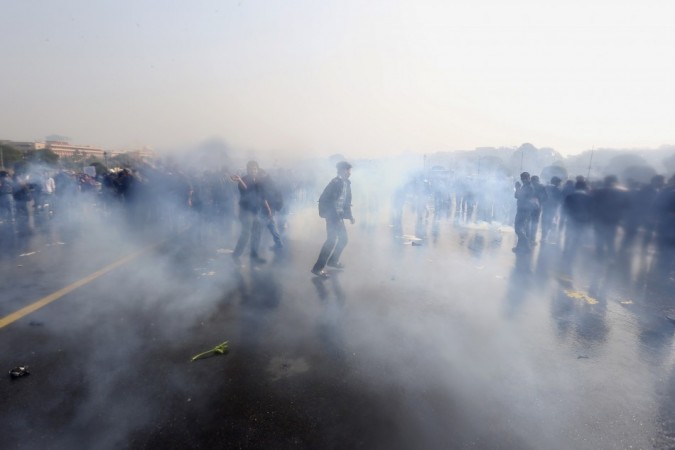 Seven Dalits attempted suicide in a Gujarat village to protest against assault on their brethren seven days ago over the skinning of a dead cow. The issue has come to light only now after media reports over the assault surfaced.
Gujarat Chief Minister Anandiben Patel has announced a CID probe and has offered compensation to the victims.
Six persons in an SUV assaulted four dalits in Mota Samadhiyala village near Una town. The six stripped them, tied them to their SUV and repeatedly thrashed them with iron pipes and sticks in full public view.
The victims, who claimed that they were merely skinning a carcass as per their tradition, are recovering in hospital. Several areas in Gujarat have been tense after photos and videos of the incident went viral on social media.
While three Dalits reportedly attempted suicide in Junagadh district, four others, including local Congress leader Anil Madhad consumed pesticide. While the three are undergoing treatment at a Junagadh hospital, four others are being treated at the Una Civil Hospital according to a report by The Hindu.
A national highway was blocked by angry mobs for several hours. Two state transport buses were also torched in Gondal on Monday night. Police had to resort to tear gas to disperse mobs. Protests also manifested differently at Surendranagar, where carcasses were dumped in front of the Collector's office.
Political leaders meanwhile accused the government of inaction and mismanagement of the situation. While Congress leader Ahmed Patel was quick to attack the ruling party in a series of tweets on Tuesday, ex U.P. chief minister and BSP head Mayawati raised the issue in Parliament.
"The police remained a mute spectator. The State government woke up to the horror only after the media reported the incident," Mayawati said in Parliament today.