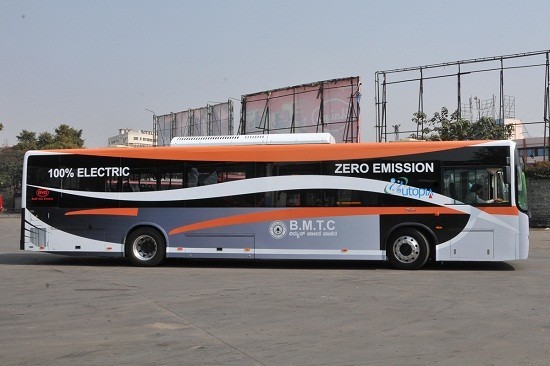 Gujarat State government is set to run electric buses for public transportation between Gandhinagar and Ahmedabad under a pilot project with an aim to cut carbon emissions.
The State-run Gujarat Power Corporation (GPCL) has invited expression of interest (EoI) from potential companies to procure electric buses for the State government. The State's move in this direction is aimed at a cleaner and greener environment.
Under the project, the State government will launch about 15-20 buses initially. Prime Minister Narendra Modi's vision of a cleaner environment is the inspiration for the project. The project comprises buying of mini-buses with 15-40 seats and if the pilot project in Gandhinagar becomes a success, then it will be introduced in other parts of Gujarat as well.
Electrical power will be used to run the public transport system between the two Gujarat cities. "GPCL is all set to introduce an 'e-vehicle' project on pilot basis for the public transportation purpose, under which 15-20 E-buses will be included in the initial phase," PTI quoted a government official associated with the project.
The official said that the project will be launched to reduce the carbon emission and to create an ecological equilibrium by using non-traditional fuel. In the first phase of the project, solar power-based electric charging stations, at regular distances, will be set up to fuel the electric buses on the 35km-long route between Ahmedabad and Gandhinagar.
The State government said that profiles of the contractors, who bid for the project, will be scrutinized thoroughly, including their capabilities and strength to handle the project. The electric bus project is likely to be launched by this year-end.
The Gujarat government initiated 'green-project' involves deploying, commissioning, supervision and monitoring the city electric vehicles transport system, completely fuelled with solar power, for a period of six months from the project launch date.
While electricity fuelled transport system is yet to pick up speed in the country, "all-electric-rickshaws" have become very popular in Delhi as an alternative public transport mode and this was approved in principle by the Union Road Transport and Highways Nitin Gadkari in June.
Gadkari plans to entrust the overseeing of the e-rickshaws to the Delhi city corporation, which will issue licence for ₹100 to the drivers. Before issuing the licence, the civic body will ensure the drivers are above the age of 20 years and put them to a driving test to ensure their knowledge of lane driving, vehicle overtaking rules, traffic signals, and pedestrian crossings among others. These e-rickshaw drivers would not come under the purview of Road Transport Officer (RTO), the Minister has proposed.