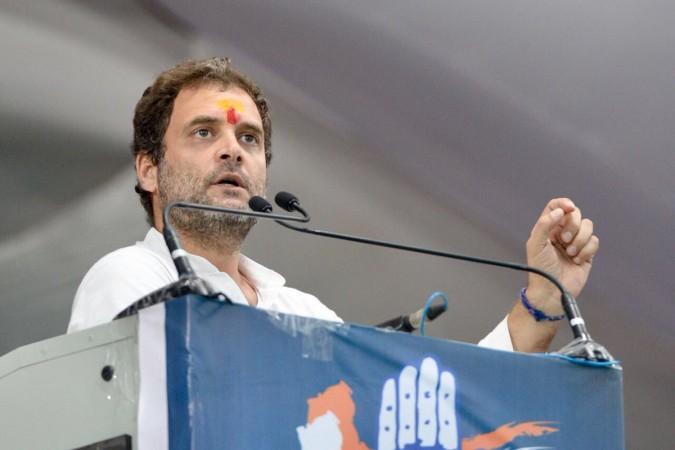 Congress vice-president Rahul Gandhi began his two-day poll campaign in Gujarat's Porbandar on Friday, with just two weeks left for Phase I of Gujarat Assembly elections.
Rahul, addressing the fishermen community in Porbandar, said this time the Congress party will come to power in the state and form a government that works according to the wishes of the people.
"The Congress and I do not want to tell you our Mann Ki Baat. We want to hear your Mann Ki Baat," Gandhi said during the rally, playing on the name of the monthly radio programme by Prime Minister Narendra Modi.
"The Congress will win the elections in December. Our doors will be open for you when that happens. Your mann ki baat will be heard within those doors then," he added.
The Congress vice-president has already conducted roadshows across the state in the last two months, where he targeted the ruling Bharatiya Janata Party (BJP) in the state over a host of issues.
"In the last few years, all of the work in Gujarat has been done for just five to ten industrialists. And those industrialists contributed to campaigning for Narendra Modi later on," Rahul said, targeting the BJP government in Gujarat.
"There should be a separate ministry for fisheries in Gujarat. And if the Congress comes to power in Gujarat, we will do this," he said.
"But the most important fact is Gujarat does not belong to five or ten industrialists. It belongs to the farmers and fishermen," he added.
Congress state spokesperson Manish Doshi said Rahul, after Porbander, will head to Ahmedabad to address a rally in the evening.
The Congress leader is also set to accept an Indian flag during his visit to the Dalit Shakti Kendra on Friday. The flag made by Dalits was initially offered to Gujarat Chief Minister Vijay Rupani, but he declined to accept it owing to space crunch.
Prime Minister and BJP leader Narendra Modi is scheduled to address eight rallies in various parts of Saurashtra and south Gujarat on November 27 and 29.