A day after Cyclone Ockhi dissipated before hitting Gujarat, the state which will be witnessing Assembly elections on Saturday has once again taken the foreground.
Even though the election campaign is supposed to end on Thursday, Prime Minister Narendra Modi has decided to leave no stone unturned to demean Congress and ensure a win for the Bharatiya Janata Party.
This time, Modi has lashed out at Congress for being unjust to Dr BR Ambedkar just as it was unfair to Vallabhbhai Patel.
The PM made the allegations on December 6, on the death anniversary of Dr Ambedkar. He said that Congress destroyed everyone who tried to gain power.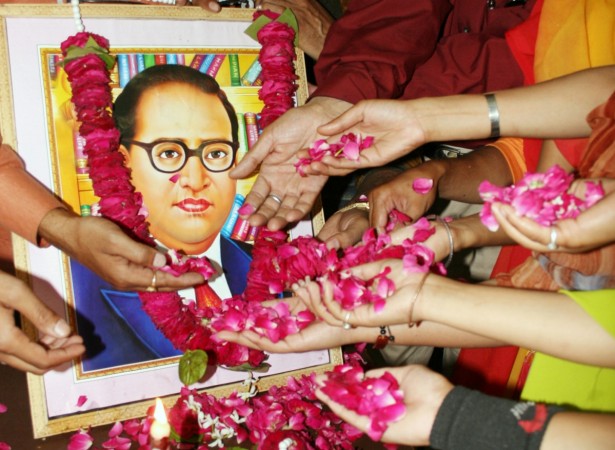 "Not only Sardar Patel but this parivar (Nehru-Gandhi family) was also unjust to Dr Ambedkar. When the Congress was all-powerful, Ambedkar had to go to Bengal to get elected to the constitutional assembly with the help of Shyama Prasad Mukherjee," Modi was quoted as saying by the Times of India.
"Ambedkar was ignored during Congress rule," claimed Modi while adding that Congress was also not willing to give Bharat Ratna to Baba Saheb.
BJP works for the poor, says Modi
Modi also took a dig at Congress vice-president Rahul Gandhi, who had said that the PM always favoured a few industrialists.
The PM said that, ever since he came to power, he has been working for the welfare of the poor by building toilets for them and not the rich industrialists.
"You tell me whether the rich had to go out to defecate? Were Ambanis or Adanis forced to defecate in the open? Were these toilets constructed for the rich? But the Congress, which has never worked for the poor, will not understand this," Modi alleged.
He also took a jibe at Congress by citing the schemes his government had initiated for the poor.
"Nearly 30 crore people in the country did not have bank accounts. I put my entire government machinery to work to ensure that bank accounts were opened for them. But Congress considers even a person who had stepped into a bank for the first time, as a rich person," Modi asserted.
PM Modi will be addressing over 10,000 ST and SC party workers in Gujarat through an audio bridge call at 10 am on Thursday.