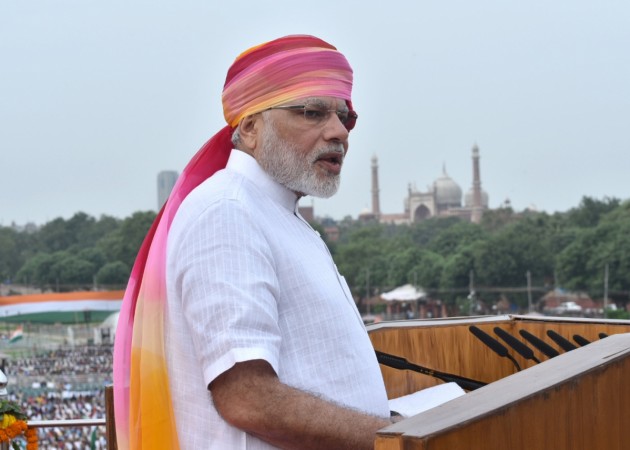 Prime Minister Narendra Modi, who is currently on a three-day visit to his home state of Gujarat, is scheduled to address nearly eight rallies in various parts of Kutch, Saurashtra and south Gujarat. The ruling Bharatiya Janata Party (BJP) leader began his rally from Bhuj in Kutch district on Monday.
"I am grateful for all the 'kichad' [mud or muck] being thrown at me. After all, a lotus blooms only in 'kichad' so, I don't mind if more is thrown at me," Modi said while addressing the Bhuj rally.
"Gujarat is my soul and mother. My relationship with you is that of equality since you call me brother," he added.
"Officers did not want to get posted to the Kutch region as the water here was black in colour. The Congress did not allow Narmada water to come to the Kutch region. What if the Narmada waters had come to Kutch 30 years earlier? It would have made such a big difference," Modi said, targeting the leading opposition party.
"Congress is unhappy about demonetisation. They keep attacking me but I want to tell them...I have grown up in the same land as Sardar Patel. I will ensure that the poor get their due. We will not allow this nation to be looted," Modi said.
The BJP leader, during the rally, said that the people of Gujarat will never accept Congress.
"They (Congress leaders) are coming to Gujarat and spreading lies about a son of Gujarat. Earlier they did that with Sardar Patel also. Gujarat will never accept this. No Gujarati will accept the lies that they are spreading," PM Modi said.
The BJP, meanwhile, released its sixth list of 34 candidates for the upcoming Gujarat Assembly elections on Monday, out of which 13 nominees were from the Patidar community.
The party has announced nominees for 182 seats so far. The candidates' list also includes incumbent Chief Minister Vijay Rupani.
The Gujarat Assembly elections will be held in two phases on December 9 and December 14. The votes will be counted on December 18.