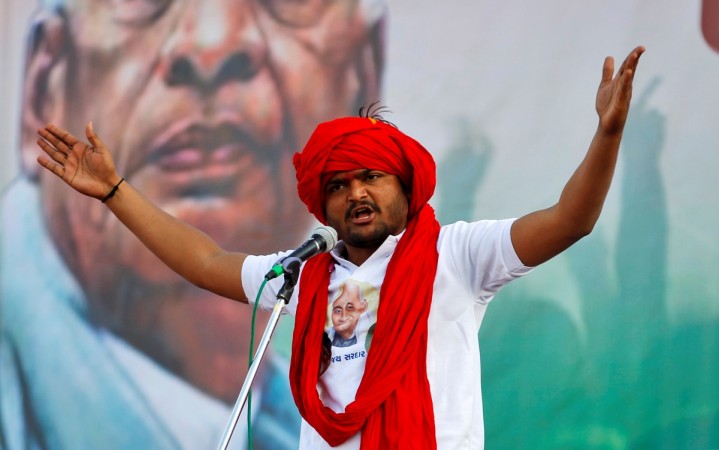 Shortly after Congress released its first list of 77 candidates for Gujarat elections, after reaching an agreement with the Patidar community group led by Hardik Patel, reports emerged of the Patidar Anamat Andolan Samiti (PAAS) members attacking Congress offices in Surat, reflecting the fragility of the truce.
Congress, after a late-night, hour-long meeting with PAAS leaders had announced the candidates' list for next month's elections, which also features at least 19 members of the Patidar community, which is campaigning for quotas in government jobs and colleges. Reports state that the list also includes two aides of Hardik Patel.
However, the members of the PAAS community kicked up a storm soon after the list released, alleging that the two Patidar leaders who were included in the list without the consent of the members. Reports state that police force was also called at the Congress headquarters in Ahmedabad and other regions in the state to prevent a similar incident.
"Congress announced the names without our permission. We will launch a state-wide agitation against the Congress," Dinesh Bhambhani, a member of the core committee of the PAAS, told NDTV.
The Congress list features Lalit Vasoya and Nilesh Patel, two associates of Hardik Patel. The party had declared that the two sides -- Congress and PAAS -- had come to a consensus on the reservation formula and that Patel was set to make a formal announcement of the community backing Congress in Rajkot on Monday. Patel, however, did not attend Sunday's meeting.
The Nationalist Congress Party (NCP) did not appear happy with the list either as none of its party members was selected.
NCP leader Praful Patel on Monday suggested that the party may contest for the Gujarat polls alone after Congress fielded a candidate from Kutiyana, which is considered an NCP bastion. "We will be more successful by going alone," Patel said.
Gujarat Pradesh Congress Committee spokesperson Dr Manish Doshi, after the clashes, said that there were "clear misunderstandings" that Patidar leaders may have and that it would hold talks on the same.
"We will talk to them and clear whatever misunderstandings they may have. We are yet to announce several other seats in Saurashtra North Gujarat and other places," Doshi said.