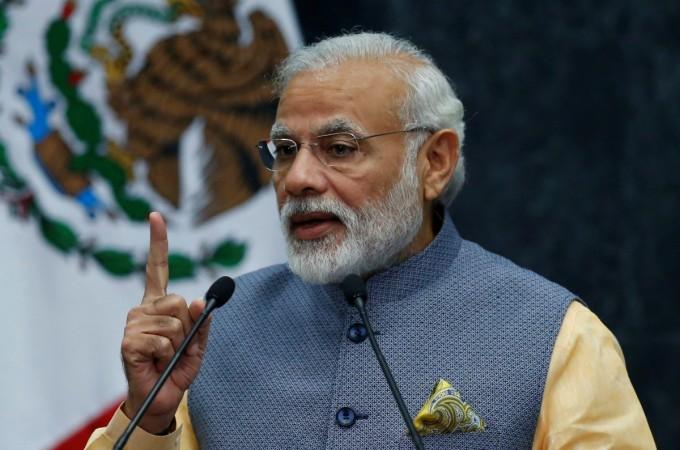 On the last day of campaigning for the Gujarat elections on Tuesday Prime Minister Narendra Modi ended electioneering in the most unique way possible and travelled in a seaplane from Sabarmati river in Ahmedabad to Dharoi dam in Mehsana district.
In fact this is the first time that such an aircraft took off from the Sabarmati river.
Though Modi was scheduled to board the seaplane near Sardar Bridge at around 9:30 am on Tuesday, he boarded the flight at 10:00 am.
He reached Dharoi dam at around 11:30 am and departed for the Ambaji temple by road.
First seaplane landing in Sabarmati
This unique journey was planned after the Ahmedabad Police did not grant the PM the permission to conduct a roadshow. The administration had also refused permission to Congress President Rahul Gandhi, owing to the traffic jams that will be caused by the roadshows and also to maintain security in the communally sensitive area.
"Our party had planned my roadshow on Tuesday. However, the administration has not given permission and I had time so I decided to go to Ambaji in the seaplane," Modi has said during a rally in Gujarat on Monday.
At the same rally, Modi had confirmed that this was indeed going to be the first time that a seaplane will fly from the Sabarmati river.
"Tomorrow for the first time in the history a seaplane will land on the Sabarmati river. I will fly from here to Dharoi and come back." Modi has said.
"We cannot have airports everywhere, so our government has planned to have these seaplanes," Modi added.
Tomorrow at 9:30 AM I will travel from Sabarmati River in Ahmedabad to Dharoi Dam via sea plane. After that will offer prayers to Maa Amba at Ambaji. With air, roads & rail connectivity, our Government is making efforts for harnessing waterways. All this is for 125 crore Indians!

— Narendra Modi (@narendramodi) December 11, 2017
The PM will be returning to Sabarmati riverfront in the seaplane at around 2:30 pm.
Modi is expected to spend a few hours at the Ambaji before undertaking the return journey.
Meanwhile Rahul is scheduled to address a press conference on Tuesday afternoon in Ahmedabad in the last lap of the campaign of the second phase of the elections.
Here is the video of Modi flying in the seaplane: