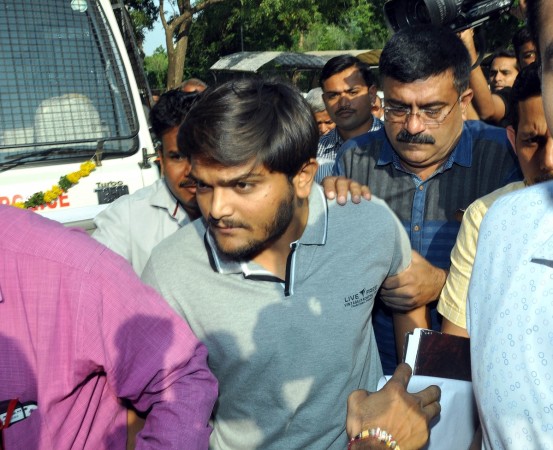 The Gujarat police imposed a curfew in Mehsana town after a protest rally of the Patel community turned violent on Sunday. The agitators were demanding the release of Hardik Patel, who is in jail since October last year.
Mehsana District Collector Lochan Sehra said the protest rally was organised even after the police denied permission for the same, NDTV reported. More than 20 people, including policemen, were injured in the clashes between the police and the agitators.
The police resorted to lathicharge and fired teargas shells on protesters when they allegedly pelted stones at the police vehicles, Press Trust of India reported. In-charge DGP of Gujarat PP Pandey said some people took to violence during the protest.
"Police always work to establish peace. The gathering was peaceful initially. However, the situation deteriorated only after some persons resorted to violence and damaged property. I have already sent additional force to handle the situation," PTI quoted Pandey as saying.
Lalji Patel, the chief of Sardar Patel Group (SPG), refuted the police's claims of violence and said their protests were peaceful. SPG is one of the groups demanding reservation for the Patidar community in educational institutions and government jobs under Other Backward Classes (OBC) status.
"Our protest was peaceful as announced earlier. However, police suddenly hit me and some of our members when we were walking ahead of the procession. I was hit on head. You can see the blood on my face. We were beaten up without any provocation," PTI quoted Lalji as saying.
The police detained Lalji and some other protesters following the clashes.
Meanwhile, Patidar Anamat Andolan Samiti has called for Gujarat bandh (shutdown) on Monday.
Hardik Patel, who led the agitation demanding an OBC status for the Patel community members in August last year, was arrested by the Rajkot Police on charges of sedition. The arrest was made after an FIR was registered against him for allegedly insulting the national flag, PTI reported.